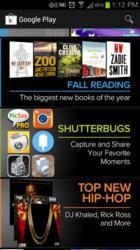 While the photo-sharing space is crowded and has large players like Instagram and Adobe, Streamzoo differentiates by continuing to innovate and deliver on our core vision of providing the best app.
Sunnyvale, CA (PRWEB) September 15, 2012
Streamzoo, the popular photo-social app, is being featured on Google Play this week. Picked from countless photo-sharing applications, Streamzoo finds a prominent place in the "Shutterbugs" category of recommended photo apps, along with other popular photo apps like Photoshop Touch, Pixlr-o-matic and Photobucket. This small startup is making itself known in a very competitive space amongst the big dogs of Facebook (Instagram) and Adobe.
Streamzoo is a cross-platform product that allows both Android and iPhone users to engage in the fun. Streamzoo users express their creativity with their photos, as well as discover their competitive side through the in-app game mechanics. Users' photos become part of "#streams" with the use of appropriate hash tags, and as their photos become more popular, they earn badges and points to compete against others on the leaderboard. What's more, users will quickly notice the myriad features within the application: filters, borders, tilt shifts, and crop. In addition to these photo-editing features, Streamzoo users are also able to upload and share videos, a feature that very few other photo-sharing apps provide. Another unique feature of Streamzoo is the full-featured Web app accompanying the mobile apps. At http://streamzoo.com, user can access their accounts even without a mobile phone, as long as they are near a computer. At the web site, users can sign up for Streamzoo through already existing Facebook or Twitter accounts.
"While the photo-sharing space is crowded and has large players like Instagram and Adobe, Streamzoo differentiates by continuing to innovate and deliver on our core vision of providing the best app to allow users to share life experiences via mobile photos," said Manish Vaidya, Vice President & Co-founder of Streamzoo. "Our execution is validated by both Google's decision to feature us in this category and strong user growth on Android, iPhone and web platforms."
About Streamzoo
Streamzoo is developed by Phonezoo Communications, Inc., a Silicon Valley based company specializing in providing mobile products and services worldwide. Streamzoo helps users share, organize, and discover #streams of mobile photos and videos. Not only is it a photo-sharing application, but Streamzoo also allows people from all across the world to connect in a creative way and see through the eyes of others.
###