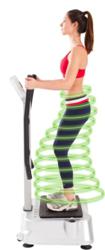 New York, NY (PRWEB) September 19, 2012
ENS Health, LLC proudly announces its partnership with Hypervibe Whole Body Vibration Platforms. The Hypervibe, a product of Australia, is soon to be FDA approved. It is the most powerful, effective, and affordable Whole Body Vibration platform on the market.
Whole Body Vibration is a rapidly emerging advanced training technique, and will soon the be the status quo in both fitness centers and rehabilitation clinics. It has been clinically shown to provide users the following benefits:
Increased muscle mass and strength
Increased speed and power
Increased flexibility
Improved body composition
Increased weight loss
Increased bone density
Improved circulation and blood flow
Improved balance and body awareness
….and much more
ENS Health is a progressive health and wellness company in New York City staffed by medical and fitness professionals alike. They are dedicated to researching and safely introducing the most cutting edge training and therapeutic exercise tools to the US market.
Inspired by technology used by Russian cosmonauts for the preservation of muscle and bone in space, Whole Body Vibration has rapidly grown over the past 17 years to become a powerful tool for athletes and fitness buffs, as well as individuals suffering from chronic pain, neurological diseases, and the rapidly growing list of physical issues attributed to aging.
Over 17 years of international research shows that exercising on a Whole Body Vibration platform benefits everyone from children to the elderly. Whole Body Vibration has the capacity to revolutionize the fitness industry and make wellness a priority alongside being strong and looking good. Once more people feel the effects Whole Body Vibration has to offer, the platforms will be a regular amenity at health clubs.