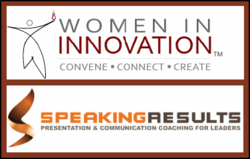 The Women in Innovation Summit 2012 (WINS2012) is a signature event organized by the Women of the Next Fifty Project and the Seattle Center Foundation to commemorate the 50th anniversary celebration of the 1962 World's Fair during the month of "Innovation
Seattle, WA (PRWEB) September 18, 2012
A compelling question led to the founding of an all-day conference, Women in Innovation Summit 2012 (WINS) which is part of the Next 50 celebration at Seattle Center, taking place 8am-8pm, Saturday, Sept. 22, in Intiman Playhouse.
Kristiina Hiukka asked this simple question: "What becomes possible when you bring together powerful female leaders in business, technology and science with women who are dedicated to positive social change?" .
"This will be a very unique conference," said Jean Hamilton of Speaking Results. "Besides providing a wealth of information from the speakers, it will also encourage interaction and partnerships to occur. It's an event that could lead to a much bigger movement. It's also going to be a whole lot of fun!"
WINS is part of an impressive ground swell around the globe recognizing women as vital change agents and innovators. Conference attendees will work on initiatives in the areas of economy, education and ecology to set the Innovation Agenda 2013.
"The vision of the Summit is to attract women and men who believe that invoking the mind, heart and power of women matters, and that finding collaborative ways to innovate for the greater good is paramount to a thriving world," said WINs creator Kristiina Hiukka.
The event format features keynote speakers in short, compelling presentations which will inspire deeper group discussion, enabling participants to actively play with transforming ideas into creative solutions to global issues.
The day will open with noted soprano Maria Männistö and includes surprise entertainment and films throughout the day. The evening Innovative Networking Reception and Wine Tasting, sponsored and hosted by ASHOKA Seattle and the Embassy of Finland, and the wineries O Wines, DaMa Wines, Olympic Cellars – Working Girl, Girly Girl Wines, SuLie Cellars/Roller Girl Wines, with music provided by the Seattle Wind Quintet.
WINS 2012 expects to provide the attendees a new way to think about and accomplish innovation by uniting men and women, mentors and mentees and multi-cultural influencers in leadership, technology and social change. Hiukka, the Summit founder, believes the event will "Offer an opportunity to alter mindsets and launch creative actions that inspire innovation and achieve sustainability." Tickets are $299 per attendee, with a group discount and limited number of student tickets also available. Attendance can be in person or through live web casting.
The Women in Innovation Summit 2012 (WINS2012) is a signature event organized by the Women of the Next Fifty Project and the Seattle Center Foundation to commemorate the 50th anniversary celebration of the 1962 World's Fair during the month of "Innovation Economy and Commerce. Seattle Center Foundation is a 501 (c) 3 organization located at 305 Harrison, Seattle, WA 98109.
For the full agenda of the one-day event, go to: http://womenininnovationsummit.org.