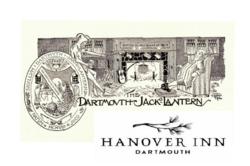 Hanover NH (PRWEB) September 17, 2012
Deep in the storied history of Dartmouth College, one of the oldest colleges in America, founded in 1769, are the scattered ghost stories of youth and romance torn asunder. The most prominent among them is the sad tale of nine undergraduates who perished in 1934 in a carbon monoxide accident while sleeping in their fraternity house attic.
The Alpha Theta house on North Main Street was razed in 1940 and a new one built on the spot, which is where the ghosts, literally come in. More than one Dartmouth student, alone late at night in the laundry room of the new basement finds himself face to face with a room that isn't there and a party of young men in tuxedos and their dates in ball gowns. Further investigation revealed that the faces of the apparitions matched the photographs of the nine who died. The women – who would have been unauthorized guests – are not identified.
Ghosts also are said to haunt the room beneath the famous bell tower in Baker Library. The grand Greek Revival building at 9 School Street that is headquarters for Panarchy, a Dartmouth undergraduate society is said to be haunted. Even the Inn has a few stories. Perhaps the most enduring spirit is the one evoked by the Jack O'Lantern, the college's humor magazine that was founded in 1908 and welcomed the wry observations of Theodore Geisel, Class of 1925 who created his pen name Dr. Seuss to contribute to its pages.
In honor of the ghosts of Dartmouth, the Hanover Inn at Dartmouth is offering a Ghostly Romance Package during the month of October. In addition to offering an excuse for a fall getaway in northern New Hampshire, the Ghostly Romance Package with rates starting at $339* includes a bottle of house wine and a special seasonal gift.
For information and reservations at the Hanover Inn at Dartmouth, visit http://www.hanoverinn.com or call (800) 443-7024 or email sales(at)hanoverinn(dot)com
About The Hanover Inn at Dartmouth (http://www.hanoverinn.com)
The 108-room Hanover Inn at Dartmouth overlooks the Dartmouth College Green in downtown Hanover at the corner of South Main and Wheelock Streets. This prime location has held a lodging establishment since 1780. The Inn closed for major renovations in 2011 and is reopening in three phases in 2012. In June, the Inn completed 94 of the 108 guest rooms and opened a casual, full-service restaurant. In August, the Hayward Ballroom and four executive meetings open; and in November the full 10,999 sq. ft. Minary Conference Center will be complete. In early 2013 the Inn will open a signature farm-to-table restaurant. The Inn is owned by Dartmouth and is a member of the National Trust for Historic Preservation's Historic Hotels of America.
*Based upon space availability. Does not include tax or gratuity.