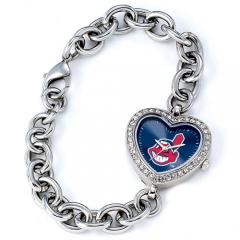 Sports fans can be trendy with sports jewelry
Paradise, Texas (PRWEB) September 17, 2012
The first week after Labor Day starts everyone talking about fashion. Celebrities flock to their favorite designer's runway show to get a peek at the 2013 designs, fashion magazines are filling their pages with images from the various shows, and sports fans are wondering how they can support their favorite team and be trendy.
Evident in this year's color trend is the vibrant blues, shades of red, and highlights of gold and silver. Also dominating the visual palate is black and white teamed together or with the blues, reds, gold or silver to create eye catching plays of color. Besides these vibrant color matches, many designers also showed on the runways garments made from varying shades of white.
Every year it seems the fashion world has at least one "Fashion Trend Shocker". This year's shocker is the use of leather for spring and summer. Yes, leather died to match colors of the rainbow for spring and summer. Designers used leather for detailing on their garments or they created stunning single pieces that you could not tell were leather if you did not feel the garment.
You cannot talk about fashion without talking about jewelry. Holding true to the trend is the layered look. Wearing several necklaces or bracelets of different lengths, textures, colors, and metals is still in fashion. Sterling silver and gold jewelry will be popular accessories as well as crystal and leather items.
At Sports Fan Jewelry Online (SF-JO), both men and women can find trendy sports jewelry. Many NCAA or Professional League teams have an advantage; their team colors include shades of blue or red. In the SF-JO catalog, sports fans for these teams will find stylish team watches with face plates matching their team colors or gorgeous necklaces displaying crystals of blue or red. Besides these color trend items, SF-JO also carries a wide variety of gold and sterling silver sports jewelry that would accent any item in a wardrobe. Many of these items could be that missing piece needed to accomplish that trendy layered look.
For those sports fans who want to be a part of the leather trend, SF-JO also carries a large selection of black or white leather banned watches. These leather banned watches will complement any black on white outfit or can be worn as an accessory with that all white, summer outfit. For the youth, SF-JO has watches with bold colored leather bands displaying the colors of their favorite sports team.
More now than ever sports fans can be trendy with their accessories and show support for their favorite team. The SF-JO catalog has over 13,000 items in support of NCAA or Professional League teams. Besides their line of sports jewelry, SF-JO carries a large selection of luggage, bags, backpacks, purses and sleeves displaying team logos.
SF-JO catalogs are available online at http://www.sportsfanjewelryonline.com. Fans can shop for sports jewelry 24 hours a day and discounts are provided to return customers. Interested customers can sign up for the SF-JO newsletter and can be notified when new sports jewelry products are added to inventory.