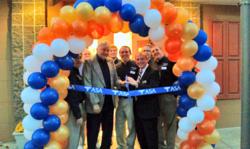 Pittsburgh, PA (PRWEB) September 17, 2012
Automated Security Alert, a privately-owned company headquartered in Pittsburgh, Pennsylvania is expanding by opening up a new office in Cleveland, Ohio. The company has opened up several new offices in Pennsylvania and in the surrounding states in the past two years and serves clients in all fifty states. Automated Security Alert is dedicated to helping to keep seniors and physically challenged persons in their own homes for as long as possible by providing healthcare technology to keep them safe. The company also has a Campus Solutions program that provides medical equipment and Life Safety services to medical facilities, assisted living facilities, and senior homes. In addition to providing equipment such as medical alarms, fall detectors, and monitored medication dispensers, the company provides telehealth services that allow individuals with chronic health conditions to be able to monitor their condition from home. The telehealth system can communicate vital signs and blood sugar levels to the client's doctor – all without the patient having to leave their home or having a private care nurse monitor them. The telehealth system has a variety of options to benefit patients with a number of different conditions.
Jason Seyler, Automated Security Alert's Directory of Life Safety is happy that the company now has an office in Cleveland and is looking forward to the positive impact that the company will have on the community.
Automated Security Alert, Inc. was founded in 1988 in Munhall, Pennsylvania. The company uses the newest technology to enable senior citizens, physically challenged persons, and recovering patients to maintain an independent lifestyle in their homes. Automated Security Alert offers a variety of medical alarms, medication management systems, and telehealth services.
For further information, please contact Matthew Couillard at 1.800.338.7114.