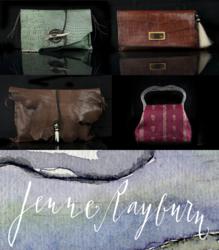 Combining her treasury of knowledge and materials, with her love of style, fashion and adornment, Jenne Rayburn crafts a unique selection of handbags, belt and scarves.
Boston, MA (PRWEB) September 17, 2012
Jenne Rayburn Handcrafted Jewelry and Wearable Art, a Boston based design company, announced this week that Jenne Rayburn is promoting her Manu collection of fashion accessories in The Boston Fashion Trail. A special Boston Fashion Week promotion will run from September 15 through October 15. The Boston Fashion Trail consists of retailers, salons, spas, hotels and restaurants, committed to doing something special in honor of Boston Fashion Week because they wish to celebrate Boston designers and commemorate local style and fashion. Details can be found at the Boston Fashion Week website and at jennerayburn.com.
Today, almost everything is made by machine, making handcrafted, custom vintage fabric and leather accessories the ultimate luxury. Jenne Rayburn's accessories collection, Manu, includes handcrafted handbags featuring this fall's bold shades of burgundy, bright blues, pinks and gold. The selection ranges from hard-to-find antique and ethnic specialty fabrics, to designer leather, which are combined with vintage and Italian hardware, buttons and handles. Each fabric, handle and embellishment is selected with attention to detail, quality and individuality. Jenne Rayburn works with only the finest up cycled vintage materials to create contemporary designs with clean lines that are architecturally and naturally inspired. One might find a Vintage kimono silk with a bold Lucite button, or a colorful ethnic fabric with an antique bronze buckle. Each design is meticulously handcrafted with care in the designer's Malden, MA studio.
Inspired by the past, and the original stories that tell how history was shaped, Jenne Rayburn values design research as part of her creative process. Tracing back to Egyptian hieroglyphics, Rayburn notes that the first purse was discovered in the 14th century, documented in paintings that show pouches carried around the waist. Contemporary handbags have been around since the 16th century. Originally, the term handbag referred specifically to a small piece of luggage that was hand-carried by a man while traveling. By the latter half of the 1800s, Victorian handbags for women finally came into style, evolving into the fashionable women's accessory we recognize today. An important amenity, Women hung flap-fronted or draw string purses from a decorative clip of long chains at their waist belts, to carry coins and other small items that were not accommodated in their pocketless dresses. Although often embroidered with light-catching sequins, tassels and gilt beads, important functional items also hung from this belt hook. Accessories such as sewing items, a magnifying glass, keys, a watch, a nail file, or a compass were functional necessities, and fashion accessories. Because of its roots as travel luggage, the earliest handheld bags designed for women featured compartments inside the bag, a sturdy handle, and metal frames and fastenings.
Inspired by her seamstress grandmother, who designed and sewed couture dresses for herself and created stylish outfits for Jenne and her sister, Jenne Rayburn is influenced especially by the styles of the 1930s and 1940s. "Fashion of the 1930s and 1940s was transformed by innovative fabric technologies and fueled by a new confidence," notes Rayburn. "American women were demure yet provocative, and their wardrobes were more glamorous than ever." Jenne Rayburn is known for reinterpreting classic forms and patterns with contemporary detailing, and she feels compelled to explore and experiment with both new and old fabrics and materials. Incorporating thoughtful design touches, and combining them with the finest fabrics, leathers and superior craftsmanship, Jenne Rayburn creates a unique selection of sophisticated accessory designs that combine history and innovation with fashion.
Boston Fashion Week was founded in 1995. It is dedicated to creating opportunities that increase the viability and visibility of the local fashion industry. The fashion week events throughout Greater Boston serve as a platform for both established industry professionals and aspiring newcomers to showcase their work and to network with peers and the public.
This annual celebration of Boston style features a wealth of local talent. Boston Fashion Week is unique in that it is designed to engage the community directly, at the grassroots level, cultivating fashion as an integral part of the Boston lifestyle. Accessibility and diversity in programming allow the public to engage events throughout the week on many levels; experiencing a show, taking in an exhibit, participating in an educational program or joining in the festivities at a party. The week also contributes to our local civic pride by showcasing the region's design and fashion capabilities, and celebrating the innovation and creative talent New England has to offer.
Boston Fashion Week
September 27, 2012 – October 6, 2012
http://www.bostonfashionweek.com
Boston Fashion Trail
Visit Jenne Rayburn's collections http://www.jennerayburn.com
Visit Jenne Rayburn on Facebook http://www.facebook.com/Jenne.Rayburn
About:
Jenne Rayburn is a Boston-based jewelry/textile artist who also studied interior design and architecture, and her work explores the convergence of architecture, design, technique and identity. Jenne is known for her designs combining vintage textiles, findings and components, with contemporary textile design. A graduate of the University of Washington where she studied metalsmithing and fiber arts, and of the University of Massachusetts, Amherst with a MS in Design, Jenne has been designing jewelry and accessories for over 20 years. Perpetual curiosity and a passion for experimentation resulted in her first jewelry collection made from etched copper and brilliantly colored enamel. Since then, Jenne has created six unique collections of jewelry and fashion accessories that combine careful workmanship with unique materials and designs. It is her hope that the wearers of her pieces will find joy in a delightful artistic statement, and also something that enhances their individuality and confidence. Her work is carried in local galleries and online. Please visit http://www.jennerayburn.com for Jenne Rayburn's online flagship store. For wholesale information, please visit jennerayburn.com/wholesale.com