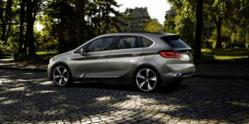 The BMW Concept Active Tourer breaks new ground in terms of interior design.
(PRWEB) September 18, 2012
BMW Previews Concept Active Tourer
Before this month's Paris Motor Show, BMW has previewed its 3-cylinder, 1.5-liter plug-in hybrid, the Concept Active Tourer. Part of the automaker's eDrive lineup, the Tourer is a front-wheel-drive prototype that is designed to switch to gasoline power after approximately 18 miles of electric travel, and features a 190 combined horsepower drivetrain. The compact hatchback operates much like the Chevy Volt, with a generator running the electric motor after the battery pack becomes depleted. Unlike the Volt, the BMW Tourer cannot charge from a standard household outlet, but requires a 220-volt source. The Tourer's seat backs are designed to hold tablet computers in a special clip mechanism. For the complete story, see:
http://www.myperfectautomobile.com/bmw/bmw-concept-active-tourer.html
Mercedes-Benz SLS AMG E-Cell Making Test Runs
The Mercedes-Benz SLS AMG E-Cell concept car has been seen in public for the first time, drawing attention from automotive photographers and journalists. On the famous Nurburgring track, and in nearby city streets, the concept electric super-car is making limited test runs for research purposes. The original concept version of the E-Cell, which first appeared two years ago on the international auto-show circuit, featured four electric motors, a total of 525 horsepower, and a zero-to-60 mph time of four seconds. The four electric motors are powered from a 48 kWh lithium-ion battery pack, giving the E-Cell a travel range of approximately 100 miles. The car uses an advanced energy recovery system to recapture electric power and transfer it back to the battery. For the complete story, see:
http://www.myperfectautomobile.com/electric-car-2/mercedes-benz-sls-amg.html
About MyPerfectAutomobile:
MyPerfectAutomobile (MPA), a California-based news source for the hybrid, electric, and alternative-fuel transportation sector, covers breaking news on the green car front.
The MPA flagship website has grown into a major presence on the Internet. It features a complete shopping mall as well as a free-to-list classifieds section for all things green. For advertisers, MPA offers the chance to be in front of over 20,000 readers each month who are interested in hybrids and electric vehicles, as well as sustainable transportation in general.
Bob Twaalfhoven: President and Founder of MPA, is an MIT-educated engineer whose primary interest is planetary sustainability.
Larry Judkin, General Manger and Sales Coordinator, has tasked himself with taking MPA to the number-one spot among green transportation websites.
MPA's offices are located at 307 Orchard City Dr., Suite 210, Campbell, Calif. 95008.
For advertising opportunities, contact MPA directly: Phone: 408-963-6427 Fax: 408-963-6730 Email: driven(at)myperfectautomobile(dot)com Web: http://www.myperfectautomobile.com