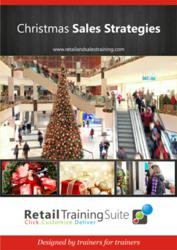 It is imperative Retail Managers develop a game plan now to maximize Christmas sales.
(PRWEB) September 27, 2012
Store Managers should have a retail strategy to maximize sales over the crucial Christmas trading period. While they may hope for the best, many retailers do little to position themselves for the best and then blame external factors like the economy or aggressive competition for poor trading results. The smart ones however, take control of their results and leave nothing to chance.
The Authentic Training team developed a retail strategy guide to help retailers make the most of the Christmas trading period. "It is imperative retail managers develop a game plan now to maximize Christmas sales. Not every retailer has the luxury of a business consultant to advise them, and so our package provides them with the structure, tools and inspiration to help them", says company founder Melissa Davies.
First, retailers need to specify exactly what they want to achieve this Christmas. Then they need to assess every aspect of the customer's journey through their store against how well it supports their vision. They need to consider all core retail disciplines: store aesthetics, merchandising and ticketing, customer service skills and point of sale to look at how they can make shopping easier for the customer, more enjoyable for the customer and more memorable for the customer.
Then they should plan their strategies for customer engagement. With increased competition in the online sphere, retailers need to provide more reasons for customers to come into store, and do more to engage them while inside. Creating theatre through product demonstrations and in-store events, providing ideas and inspiration, expert gift consultations and product knowledge are all advantages the tangible store has over the virtual store. Great retailers anticipate their customers' needs so they can prepare for them. Over Christmas customers' needs are simple - gifts for themselves, their family and their friends. The easier retailers make gift buying for their customers, the more they'll love them for it. "Our package makes it easy for retailers to achieve excellence in sales and service. It's based on sound retail strategies that are simple to implement", says Company Founder Melissa Davies.
Authentic Training specializes in developing innovative retail and sales training packages that small business owners, managers and trainers can deliver themselves. Their vision is to provide a suite of tools that empower retail teams to achieve unprecedented levels of success and professionalism.
Further information
Melissa Davies, Company Founder
Authentic Training
http://www.retailandsalestraining.com