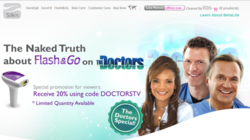 Seattle, Washington (PRWEB) September 19, 2012
Silk'n® Flash&Go was featured in the September 17th episode of "The Doctors" show "The Naked Truth about Flash&Go", a nationwide show that offers information about a wide variety of new breakthrough products for health and beauty needs. Flash&Go is a pulsed light hair removal device manufactured by Home Skinovations , the leader in innovative skincare and light-based technology.
Silk'n® Flash&Go is an affordable solution for people who want to achieve permanent hair removal quickly in the comfort of their home and remove hair in smaller, sensitive and targeted areas. It utilized FDA cleared light-based technology that has been used in clinics for over 15 years and has proven safe and effective. It is much more affordable than other permanent hair removal treatments, has compact and highly ergonomic design and has been recommended by plastic surgeons and dermatologists.
One of the most distinctive features of Flash&Go is the skin color sensor. This feature is not available on other comparable devices and it measures the complexion of the treated skin to ensure that pulsed light is emitted only on suitable skin tone.
Viewers of "The Doctors" show were offered a special limited time discount, if they wanted to purchase Silk'n® Flash&Go to try pulsed light hair removal at home and get silky smooth skin.
About Home Skinovations:
Home Skinovations is a private company with a mission to develop, manufacture and sell the safest and most effective home‐use beauty devices and products. The Home Skinovations team of skilled scientists, engineers and business executives has over 25 years of introducing innovative light‐based products to the global aesthetic devices market. Home Skinovations manufactures Silk'n beauty products, including SensEpil, FaceFX, and Blue products for at home permanent hair removal, anti‐aging and acne treatments. The Silk'n family of products has surpassed one million treatments worldwide in over six continents and continues to grow. Silk'n has been featured on various TV programs such as Good Morning America, Today Show, Rachael Ray, The Doctors, and numerous magazines including O Magazine, Allure, Vogue and more.