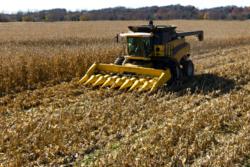 The Australian site GMWatch.org released information regarding potentially fatal liver disease that could develop if humans consume the form of genetically mutated wheat being engineered in their region.
Orange, CA (PRWEB) September 20, 2012
The nationally recognized health insurance comparison site, HealthCompare, warned of genetically mutated wheat germ health-related fatalities through their Twitter feed this week.
The Australian site GMWatch.org released information regarding potentially fatal liver disease that could develop if humans consume the form of genetically modified wheat being engineered in their region.
Disputes revolving around the GM industry, it "benefits" and its validity are popping up everywhere. The US, the home of the GM industry, is the field for heated debates daily about the consequences of such tampering with food. This new information from Australian strengthens the arguments of those against the practice of genetically engineering food items.
The arguments have been that science doesn't yet hold all the answers and there isn't enough data to back up whether or not engineering foods is causing the rise of diseases like eosinophilia myalgic syndrome, breast and other forms of cancer, and even allergic reactions that can cause death.
HealthCompare has demonstrated a clear comprehension of the need for better health care choices because of reasons like this. That's why they set out to educate consumers as thoroughly as possible so effective health insurance decisions are made. Not decisions based solely on their wallets.
Many consumers expressed they understood out-of-pocket costs were simply the monthly premium paid and, as a result, many end up with policies that didn't cover their actual needs - costing them more in the end.
Conversely, many people conveyed there was little need for medical coverage as they would end up paying most of the costs on their own anyway.
Misguided information like this is widespread on the web, but knowing the right questions to ask can be the difference between running the risk of medically related bankruptcy and coverage that fits patient needs and budgets.
That was the logic behind HealthCompare's development and distribution of their infographics.
These graphics illustrate the hardships that revolve around the health insurance industry and help consumers understand how to best fulfill their healthcare requirements.
Some of the infographics developed are:
Understanding Where to Find Affordable Medical Insurance
The Right Way To Make A Health Insurance Comparisons
Affordable Medical Insurance Isn't Just A Dream
Is Low-Deductible Health Insurance A Bad Thing
Other graphics can be found here.
Unsatisfied with the reaching out simply to consumers, HealthCompare will be soon reaching out to the entire population. Through the boom in the publishing industry, they will release weekly self-development books on their website that will help guide readers through difficult life events like birth, death, marriage and divorce.
HealthCompare understand the need for education and will continue to reach out to the public in new and innovative ways.
About Health Compare: HealthCompare was launched in 2009 to work with brokers and carriers to help individuals and families easily research, compare, buy, and enroll in the right health insurance plan at the right price. Based in Orange, Calif., it delivers accurate, customized, health insurance quotes for the country's diverse population.
Through a unique partnership with its sister company, CONEXIS, HealthCompare has the ability to quickly reach thousands of COBRA-qualifying consumers and provide them with COBRA alternatives at the moment they become eligible for COBRA benefits. This provides these consumers with an opportunity to enroll in individual or family plans and potentially save hundreds to thousands of dollars on COBRA premiums and, at the same time, rewards referring brokers with referral fee income for the life of each policy.
For more information, visit http://healthcompare.com/ or call 888.748.5152.