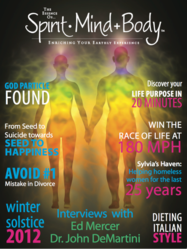 We want to nourish and enrich your earthly experience with valuable content on Spirit, Mind, and Body - Venu Sripada
Sterling, VA (PRWEB) September 18, 2012
With Heartfelt joy, Sripada Marketing welcomes you to "Enriching Your Earthly Experience" with an interactive iPad magazine "The Essence of Spirit*Mind+Body"
Vision for launching this magazine is to bring everyday heroes and experts to share their expertise and experiences that may help all the audience. Whether someone is looking to get away from the hustle and bustle of everyday life or looking for something that will nourish their Spirit, Mind, and in the process their Body, the editorial team hopes this magazine will be part of that.
The Editorial team is very fortunate to have many outstanding contributors for this magazine and would like to thank all the contributors for help in successful launch of The Essence of Spirit Mind Body magazine.
The Publisher has passionately chosen the order of the words Spirit, Mind, and Body for this magazine, because unless there is spiritual connection of oneness to the divine of your understanding, it is very hard to be fulfilled in life, even if all the other areas of life are abundant. If people do not have the right mind-set, it is pretty useless to address any task or even take up a weight-loss regimen for the Body. This is what Bonnie Diaz writes in her article "Natural Wisdom". During these tough times of economy, many are trying to reinvent themselves in their career, life, or their business. The magazine has a great article on how to Master the Challenges of 21st Century by Mark Patterson. Nadine Lajoie transformed her own life by "Winning the Race of Life at 180mph". Nadine uses unique racing analogies to talk about her breakthroughs in life; from being suicidal to being a champion. Victoria Schlosser, an accomplished Ironman Triathlete details lessons learned about life from sports. Ariel Soul writes about the Winter Solistice 2012 and makes sense of all the different theories and prophecies.
The editorial team admires and adores Vandana Shiva, an environmentalist from India who is taking on the global corporations and political establishments on something that matters to all of us – Food.
The Publisher has a humble request to all the magazine readers. Please help save Sylvia's Haven. Sylvia's Haven is a non-profit housing facility that provides shelter, guidance, and emotional support for homeless women and their children. Located in Revere, MA, the haven was founded by Sylvia Anthony, now 82 year old woman, who humbly works to provide women, not only with housing, but also provide direction, education, and training opportunities needed to help develop the earning skills needed to live free from difficult domestic situations. With the downturn in the economy, Sylvia's Haven has faced a great deal of financial difficulty, and is at risk of closing its doors forever. The home faces foreclosure from the banks if the necessary funding is not in place by the fall of 2012. Spirit Mind Body Magazine is requesting its readers to support this noble cause. All of the support which is a tax deductible contribution is greatly appreciated.