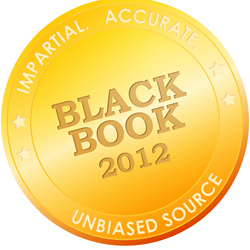 Washington, DC (PRWEB) September 24, 2012
As hospitals, physicians and insurers deal with shifting reimbursement scenarios and IT investment demands, a recent Black Book Rankings survey reveals that 96% of organization executives are in the active acquisition process of several crucial ACO data solutions. These technologies in evaluation priority include: clinical decision support, revenue cycle management, health information exchange, electronic health record systems (new and replacement) , e-prescribing, data center security and storage solutions, business intelligence, and care coordination management. However, less than 7% of accountable care organizations indicated that they are executing a synchronized stakeholder strategy for information technology due to lack of funds and/or expertise at this point in development.
Based on the uncertainty of their current system capabilities to meet reimbursement complexities, 88% of ACO leaders indicated they intend to seek external advisement from consultants and vendors to identify ACO provider technology needs and make system selections.
"The rapid adoption of HIE, bundled revenue cycle management, business intelligence and clinical decision support systems are clearly driven by accountable care implementation, meaningful use implementations, the need for care coordination, outcome based reimbursement challenges, available funding, and opportunities for regional stakeholder participation." says Black Book's Senior Partner, Doug Brown.
The 2012 Black Book IT Yearbook for ACOs report, released today also ranks the top software and service vendors based on the responses of early adopters and users, as well as currently implementing ACO customers.
The comprehensive survey of 1100 healthcare delivery organizations leaders provides aggregated insight into the conditions and priorities of the developing ACO marketplace. The Black Book IT yearbook also guides executives on over one hundred functionalities they need to automate in planning a successful ACO operation.
A handful of vendors achieved the highest client satisfaction rankings in the ACO subgroup of 2012 Black Book survey participants. "ACO solution buyers are overwhelming looking for proven vendors with successful track records with early adopters", added Brown. "The IT yearbook assists organizations in pinpointing those vendors with both developing ACO experience and high customer satisfaction, which can be a very intensive process for a start-up ACO."
87% of prospective ACO purchasing decision makers indicated an intention to only consider established, top tier vendors, creating a potential multimillion dollar revenue surges for leading technology firms in the next year.
Lists of the top vendors by functionality and service line can be viewed at http://www.blackbookrankings.com . Companies mentioned in the Black Book 2012 ACO IT Yearbook include: AdvancedMD, Aetna, Allscripts, Altruista Health, AmazingCharts, Amerinet, Aprima, AT&T, Blue Cross Blue Shield, CERECONS, Cerner, Certify, DiagnosisOne, Dimension Insight, Emdeon, Epic Systems, GE Healthcare, Greenway, Harris Healthcare, IBM, InterSystems, Lawson, Lumeris, McKesson, Med3000, MedAssets, Medicity, Meditech, Mirth, Newcrop, Optum Insight, Oracle, Orion, Phytel, Practice Fusion, Quest, RxNT, SAP, Siemens, Truven, United Healthcare, Valence Health, Verizon, Wolters Kluwer, Zynx Health.
Each solution's performance ranking is based solely on client experience and satisfaction derived from all provider customers including developing ACOs, and the study examined enterprise solutions, which include: hospital systems and IDNs, community hospitals, large physician practices and clinics, solo and small physician practices, provider-based payers, insurers, ACO support agencies and ancillary providers.
Black Book surveyed three hundred and two ACOs related organizations in Q3 2012 across 46 states. Sponsoring organization headquarters were hospital systems in 168 of the ACOs, physician groups in 91, insurers in 38, and community-based groups in 4.
Other key findings in the 2012 Black Book ACO IT Yearbook include:
39% of ACO respondents are making most all technology purchasing decisions before Q3 2013.
95% of hospital and IDN/chain executives assert that their expedited calendar of acquiring new technologies, namely HIE, EHR/EMR, clinical decision support, care coordination, business intelligence and complex revenue cycle management solutions are completely inspired by pressures to develop and prepare ACO operations and other changing reimbursement models.
28% of those providers participating in ACOs have basic HIE and interoperability strategies in place and will focus entirely on community or regional exchanges for the foreseeable future, rather than national health record exchange initiatives.
More than half of all hospitals and payers agree that the ACO technology return on investment will be discovered in the collaboration on accountable care organizations and patient centered medical homes within the first two years of successful operations.
Black Book's unbiased rankings are recognized as one of the nation's top measurements of independent technology and services client experience in the healthcare industry. Uniquely based only on the responses of actual users, Black Book represents the market research polling results of 300,000 healthcare executives annually in over 30 product and service categories including Electronic Health Records and HIE.
Additional information is available in the Black Book Rankings report at http://www.blackbookrankings.com