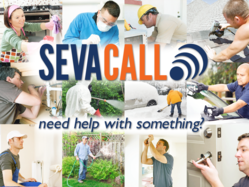 Offering our service to consumers in Pittsburgh is the best way we can think to thank the area for preparing such high-quality students.
Pittsburgh, PA (PRWEB) September 27, 2012
Seva Call, a virtual free virtual concierge service that instantly and directly connects consumers in need of service help to high quality professionals, is now available to help consumers in the Pittsburgh area. The company brought on a team of twenty interns this summer as they launched around the country, 4 of whom were from Pittsburgh universities.
"We're excited to offer our service in the Steel City, especially since its schools provided us with several of them members of our summer team," says Seva Call founder and CEO Gurpreet Singh. "Offering our service to consumers in Pittsburgh is the best way we can think to thank the area for preparing such high-quality students."
Seva Call is ready and waiting to connect consumers to in Pittsburgh to more than 4,000 local professionals in 50 different industry categories, including categories such as plumbing, snow removal, moving and storage, and even dentists. Consumers with service needs navigate to http://www.sevacall.com and enter their location, availability, and a brief description of their service need. Seva Call's algorithm connects the consumer to up to three service professionals who can best help based on proximity, consumer ratings through sites such as Yelp and Google Reviews, and social interactions on sites like Facebook and Twitter.
Carnegie Mellon University students Connie Chan, Andrew Gordon, and Duan Wang and University of Pittsburgh student Andy Vudhipao spent their summers at Seva Call's office outside of Washington D.C. The Pittsburgh team had a wide range of responsibilities, including web design, public relations, social media management, content generation, and even acting in both live and recorded demonstrations of Seva Call.
In Pittsburgh's local phone directory, there are listings for almost 1,000 plumbers alone. Consumers spend valuable time researching and calling businesses trying to find one that meets their specific need, location, availability, and—above all—quality expectations. Seva Call instantly does the research and makes the calls on behalf of consumers. In an average of 97 seconds, consumers who submit a request on with Seva Call are connected via telephone to a professional who meets all of their personal needs and requirements.
Seva Call raised $1.3 million in funding from angel investors and venture capitalists. The company, which already launched in Washington D.C., Baltimore, and Philadelphia, plans to launch in New York, Boston, and Atlanta within the next few months. The company also plans to release free Seva Call iPhone and Android apps in the near future.