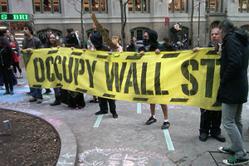 When authority figures are seen by subordinates to break the law or behave in procedurally unjust or unfair ways, it is thought those behaviors will undermine people's deference to the law and willingness to obey legal authorities
Washington, D.C. (PRWEB) September 17, 2012
The Occupy Wall Street (OWS) movement marks its one year anniversary on September 17 or as Occupiers call it S-17. OWS brought its 99 percent slogan to Wall Street in an effort to show the public's frustration with the elite one percent making up the financial nucleus of the country. Soon, clashes with police and local governments erupted as tolerance and respect for the law eroded and both police and Occupiers made missteps. Ultimately, Occupiers were evicted from their camps sometimes with excessive force. American University's Ed Maguire, professor and chair in the Department of Justice, Law & Society (JLS) in the School of Public Affairs, is a criminologist interested in how the police and legal authorities handle protestors. OWS and Occupy D.C. provided a real opportunity to observe protestors and police in action.
"Our class discussions kept returning to the Occupy movement where we were examining issues related to procedural justice, legitimacy, and fairness of authority," recalls Maguire explaining, "The Occupy Movement provided a nice laboratory to look at interactions between the police and protestors. It occurred to us that we were observing phenomena that are making history so we designed a study examining the way protestors perceive police and legal authority."
What encourages people to obey the law? JLS researchers survey Occupiers
American University JLS doctoral students surveyed more than 300 OWS participants during the six month anniversary in Manhattan's Zucotti Park. Additionally, they surveyed Occupiers in Washington, D.C., where they found there is a strong statistical relationship between people's willingness to use violence against the police and the extent to which participants view the police as having behaved in fair ways towards Occupiers.
With Maguire's network of academic colleagues across the country, additional Occupy sites were surveyed through research partnerships. Sam Houston State University carried out surveys in Houston. San Francisco State University in conjunction with University of California Berkeley carried out surveys in Oakland. The survey data were processed by Arizona State University's Center for Violence Prevention and Community Safety. The research results are expected to be published in 2013.
Under what conditions are people willing to defer to authority and obey the law?
The aim of the study is to identify the best practices law enforcement can use to handle protestors where liberties are respected and security can be maintained. In the post 9/11 world, American police have geared up to face threats. But Maguire cautions, "There is a steady stream of police research that concludes police are becoming significantly more paramilitary in nature."
As the research reveals most Occupiers tend to be non-violent. However, Maguire points out, "There is a non-trivial subset of people who seem very willing to break the law and use violence to achieve social change. In some places a third of Occupiers say they are willing to use violence against the police."
When Zucotti Park was cleared, the JLS research team observed police using force that was "disturbing" highlighting the tension between liberty and security. "When authority figures are seen by subordinates to break the law or behave in procedurally unjust or unfair ways, it is thought those behaviors will undermine people's deference to the law and willingness to obey legal authorities," says Maguire. The police enter these highly charged and emotional protests with the aim to maintain security but in some cases abuses occur which amount to the trampling of peaceful protestors' civil rights and Constitutional rights. "While relationships between police and protesters in some sites were routinely negative, some agencies relied on community policing practices to ensure community safety while preserving protesters' civil liberties," Maguire points out.
Department of Justice $400,000 grant awarded to continue research
Maguire stresses he did not only want to study the Occupy movement from the perspective of the Occupiers. As an academic researcher, he is neither an activist for the Occupiers nor an advocate for the police. Part one of his research focused on the Occupiers perspective. For Part two, Maguire received a $400,000 grant from the Department of Justice's Office of Community Oriented Policing Services (COPS) to examine how U.S. police agencies have responded to the Occupy movement.
The research grant will include interviewing police, prosecutors, and Occupiers in eight cities throughout the country. The methodology will rely on one week site visits and interviews to gather information. Site visits will be followed up by focus groups in Washington with representatives from the eight agencies visited. The final product of the research will be a guidebook for U.S. agencies with best practices for policing social and protest movements. Along the way, a series of academic articles will also be produced.
American University is a leader in global education, enrolling a diverse student body from throughout the United States and nearly 140 countries. Located in Washington, D.C., the university provides opportunities for academic excellence, public service, and internships in the nation's capital and around the world.