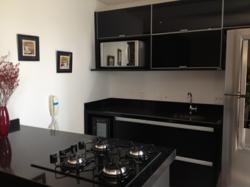 It's nice to see a company standardizing the furnished apartment in Sao Paulo
Sao Paulo, Brazil (PRWEB) September 21, 2012
Avenida Suites just recently expanded its temporary housing services when it added Corporate Apartments in Sao Paulo and a physical office in the city in August. Avenida Suites Brazil is redefining the serviced flat and corporate apartment business in Brazil by bringing the concept widely used in the United States and Europe to the Brazilian market. This concept utilizes individual apartments that are under complete control of Avenida Suites and are all furnished and accessorized to the same standards. No matter where the corporate apartment is located, or how many apartments someone may need, the confidence and convenience of having a single company to contact provides peace of mind and a huge amount of savings by eliminating the need to contact multiple individual owners. Avenida Suites clients and guests are really excited that they can now send a simple email request and receive multiple options knowing that every Avenida corporate apartment in Sao Paulo will meet their needs and expectations regardless of which one is chosen.
This furnished apartment concept, widely known in the United States as Corporate Housing and across Europe as Serviced Apartments, allows for companies and individuals to save time, money and frustration by not having to make multiple phone calls or send multiple emails to owners who list their apartments on the many listing websites. While there is a wide selection of apartments listed on these websites, there is typically a very lengthy reservation process, no guarantees of quality or service, no standardization of what "furnished apartment" means, huge discrepancy in price point, and you may have to pay for the entire stay in advance, which can be quite burdensome if the length of stay is 2 months or longer. Avenida Suites is now that single source for corporate apartments in Sao Paulo making the reservation process much faster and simpler with standardized levels of quality across the board.
The other commonly used source for longer stay needs in Brazil is serviced flats. These flats in Brazil are hotel style apartments, many of which are very small, do not include full size kitchens or laundry facilities inside the apartment, and usually charge extra for things such as parking, internet, and laundry service adding to the overall cost of the published rate. Avenida Suites solves all of these issues by standardizing the items provided within each serviced apartment in Sao Paulo, and ensuring that full amenities are included at no additional cost. Typical savings for individuals and corporations can be as high as 30% - 50% when you consider all of the extra costs of staying in a comparable hotel room or hotel suite.
Avenida Suites is experiencing significant demand for its corporate apartments in Sao Paulo and has added several new team members in the housekeeping, guest service, and reservation management departments to support the rapid growth. These new team members will help to ensure that Avenida's growth will continue to meet the expectations of quality and service the company prides itself on. Avenida has also formed several new partnerships with leading real estate firms to assist in locating apartments across the city that meet Avenida Suites' stringent requirements. New corporate apartments and serviced apartments continue to be added to Avenida Suites' inventory each and every week. Each apartment goes through an extensive preparation process that includes more than 120 checklist items, before they are made available to clients and guests. The new staff will ensure this process is thorough and complete and will extend Avenida's ability to grow with the demand.
About Avenida Suites Brazil
Avenida Suites Brazil is a rapidly growing provider of corporate apartments and corporate housing services headquartered in Sao Paulo Brazil. Avenida Suites Brazil continues to expand its reach and capability opening new offices in locations around Brazil and South America. It's fully furnished and serviced apartments range in size from one to four bedrooms and include a full array of packages to meet the style, budget, and needs of any type of traveler. Avenida's corporate apartments are available for stays of 30 days or longer. For more information on how Avenida Suites may be able to help you or your company with temporary housing or corporate apartment needs in the United States or Brazil call 1-888-553-9943 for U.S needs or 55-11-3958-8733 for Brazil or visit either website at http://www.avenidasuites.com or http://www.avenidasuitesbrazil.com.