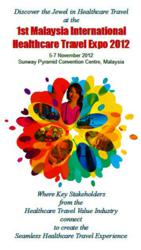 Malaysia is fast-becoming one of the world's global healthcare hubs.
Chapel Hill, NC (PRWEB) September 18, 2012
Scientific American, Peter Greenberg, and Patients Beyond Borders will share the closing session of Malaysia's first healthcare travel conference, the 1st Malaysia International Healthcare Travel Expo, organized by the Malaysia Healthcare Travel Council, November 5 – 7 in Kuala Lumpur, Malaysia.
Entitled "The Wellness Worldmap: Trends in Medical Travel and the Future of the Sector," the session is sponsored by Scientific American and will be moderated by Jeremy Abbate, Scientific American's Director of Global Media. Panelists include Josef Woodman, CEO of Patients Beyond Borders; Dr. Mary Wong, CEO of the Malaysia Healthcare Travel Council (MHTC); Dato' Dr. Jacob Thomas, President of the Association of Private Hospitals of Malaysia (APHM); and Peter Greenberg, CBS News Travel Editor. The session is slated for Wednesday, November 7, at 3:10 pm.
Supported by Malaysia's Ministry of Health, Ministry of Tourism, and Ministry of Foreign Affairs and sponsored among others by Sunway Medical Centre, APHM, and Scientific American, the three-day conference and exhibition will connect key stakeholders from the healthcare travel value industry with top healthcare and medical travel professionals throughout the region.
"We are pleased to see luminaries from the scientific, travel, and publishing communities join together to shine light on Malaysia's position as a leading healthcare travel destination," says Dr. Wong. "Malaysia is fast-becoming one of the world's global healthcare hubs."
Established under Malaysia's Ministry of Health, MHTC is the nation's primary agency for developing and promoting the healthcare travel industry and positioning Malaysia as the healthcare destination of choice in the region. Led by an Advisory Committee co-chaired by the Minister of Health and the Minister in the Prime Minister's Department of Economic Planning Unit, and comprising representatives of the healthcare travel industry from both the government and private sectors, the committee is responsible for advising on policy issues and providing direction for the healthcare travel industry.
"We are pleased and honored to be playing a role in this exciting forum," notes Mr. Abbate. "More than just saving costs on treatment, health travel can be a fundamental driver of a nation's medical infrastructure, its ability to participate in important clinical trials, and thus an important aspect of its total innovation climate."
About Scientific American
Scientific American is at the heart of Nature Publishing Group's consumer media division, meeting the needs of the general public. Founded in 1845, Scientific American is the oldest continuously published magazine in the U.S. and is the leading authoritative publication for science in the general media. Together with scientificamerican.com and 14 local-language editions around the world, it reaches more than 5 million consumers and scientists. Other titles include Scientific American Mind and Spektrum der Wissenschaft in Germany. Scientific American won a 2011 National Magazine Award for General Excellence.
Press Contact:
Rachel Scheer
Scientific American
Tel: +1 212 451.8569
Email: r.scheer(at)us.nature(dot)com
Web: http://www.scientificamerican.com
About Malaysia Healthcare Travel Council
MHTC was established by the Government of Malaysia as the primary agency to develop and promote the nation's healthcare travel industry. Its purpose is to position Malaysia as the preferred medical destination in the region. Serving as a focal point for all matters relating to healthcare travel, MHTC works closely with all relevant government agencies and private healthcare bodies to ensure quality care and facilitate smooth entry for healthcare travelers.
Kavitha Mathuvay
Malaysia Healthcare Travel Council
Tel: +60 3 2283.2003 ext. 112
Fax: +60 3 2283.1025
Email: kavitha(at)mhtc.orgmy
Web: http://www.mhtc.org.my
About Peter Greenberg
Peter Greenberg is America's most recognized front-line travel news journalist. He is Travel Editor for CBS News, appearing on CBS This Morning, CBS Evening News with Scott Pelley, and CBS Sunday Morning, among other broadcast platforms. As host of the nationally syndicated Peter Greenberg Worldwide radio show, Greenberg broadcasts each week from a different remote location around the world. Greenberg is also the author of the New York Times best-selling Travel Detective series, the Like a Local travel guidebook series from Michelin, and his most recent book, The Best Places for Everything.
About Patients Beyond Borders
Patients Beyond Borders, based in Chapel Hill, NC, publishes books, eBooks, video, online, mobile, and social networking information and applications for healthcare consumers seeking the best global options in medical care. Its flagship international title, Patients Beyond Borders, soon to be published in its Third Edition, is the world's leading consumer reference guide for medical tourism. Country Editions, City Editions, and Facility Editions help healthcare consumers make informed choices in searching, vetting, and obtaining safe, high-quality, affordable healthcare around the world.
For more information or media queries, please contact:
Judy Orchard, communications manager
Tel: +1 919 924.0636
Email: jorchard(at)patientsbeyondborders(dot)com
Web: http://www.patientsbeyondborders.com
Note: Qualified members of the media are invited to request a review copy of Patients Beyond Borders: Second Edition or any other title from our library. Please contact jorchard(at)patientsbeyondborders(dot)com