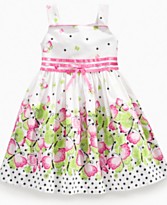 (PRWEB) September 18, 2012
Wholesale children clothing business exports brand name kids clothes to Nigeria, and throughout Africa, including to Ghana, Kenya, Botswana, Namibia, South Africa, Zambia, and other countries. CloseoutExplosion.com, a wholesale closeout business that specializes in brand name clothing, shoes, and handbags, has developed business relationships with wholesalers and boutiques in Nigeria, as well as in other African countries.
Closeout Explosion focuses on overstock brand name designer children clothing such as Polo Ralph Lauren, Tommy Hilfiger, Nike, Adidas, US Polo, Carter, Disney, Timberland, Ecko, and other American brand name labels. In order to be able to offer brand name kids clothing at below wholesale prices, Donny Lowy, the CEO of Closeout Explosion, purchases closeout merchandise from a wide array of authentic and legitimate sources, such as department store overstock, store returns, closeout sales, going out of business sales, and from other wholesale and retail sources as the opportunity arises.
With an understanding of the Nigerian, and other African clothing markets, Donny Lowy is able to make a selection of clothing that is suitable for the climate and local tastes that his wholesale buyers serve. For example, he will make a selection of designer name children clothing for Nigerian kids boutiques based on the types of brands and styles that Nigerian resellers have purchased when visiting his New York wholesale clothing warehouse. Wholesale customers from Nigeria can visit the warehouse and make their own selections for their children clothing stores in Lagos and Abuja, or they can order online an assortment of different brands, styles, colors, and sizes.
The market for wholesale designer kids clothing in Nigeria is very lucrative based on the Nigerian preference for highly fashionable brands, and their ability to afford the higher price that brand names carry. Nigeria has a highly developed economy, with many professional bankers, government employees, and business owners. They are either well traveled themselves, have relatives abroad, or use the Internet to explore the latest American and European fashion tastes.
"I have set up a wholesale children website through which retailers of children clothing, including Nigerian store owners, can read up on sales strategies and general kids fashion pertaining to the children apparel business," remarked Donny Lowy, who also runs a wholesale Nigeria website, WholesaleNigeria.com
Topics covered in this online guide to the wholesale kids fashion site are:
The Eco Movement Makes Its Way To The Kids Clothing Business
How To Sell Wholesale Children Clothing To International Customers From Your Home
Discover How A Sporting Event Can Make You Money In The Kids Fashion Business
Special Trade Secrets Retailers Must Know Today
How Fun Can Translate Into Profitable Sales
The Ingredient Your Business Must Have To Grow Sales Of Your Children Apparel
How To Make Your Children Clothing Boutique A Destination For Parents
Can You Still Make Money With Second Hand Children Clothing?
How To Use Facebook To Sell Wholesale Children Clothing
The market for children clothing for American brands in Nigeria continues to be very strong, with a preference for flowery dresses and sport clothing. Retailers in Nigeria, and wholesalers that supply the Nigerian clothing market, can also benefit from the experience which this New York wholesale fashion NY business can offer. Store owners, flea market vendors, eBay sellers, wholesalers, distributors, and importers, can visit the wholesale apparel showroom, which is located close to the New York Garment District, and receive free business advice from Donny Lowy.
CloseoutExplosion.com offers direct door to door shipping to Nigeria on a freight collect basis through shipping agents such as Express Air Freight, Impex Worldwide, Grandbelle, Laparkan, Concord Express, or through the agent of choice of the Nigerian customer.