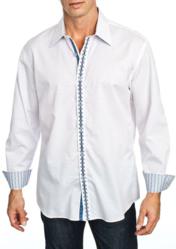 Our new thrust is very exciting. We are pleased to increase our market share by expanding our reach well beyond our shores.
(PRWEB) September 17, 2012
FashionMensWear.com announces a worldwide shipping policy to 150 countries around the globe. Singapore, Paris, Saudi Arabia, Germany, France, England and hundreds of other countries have been targeted with Fashion Mens Wear "Direct to You," shipping campaign. It has never been easier to buy from America and have a purchase delivered to your door. Shirts for men, shoes for men, and all mens clothes are carefully wrapped, boxed, labeled and shipped through one of the various internal shippers used by FashionMensWear.com. It continues to be true that we cannot ship to a post office box, but many of our shipments are landed and delivered to remote outposts in South Africa, Poland and Russia.
According to Grace Marquez, the international shipping manager at FashionMensWear.com, "The Internet has opened markets never before available to small American retailers, but now they are. Our marketing strategy includes prompt and accurate delivery to almost any point on the globe no matter where a person lives." In past years the majority of small retailers stateside limited their shipping to the 50 states recognizing that import/export paperwork, bills of lading, and other requirements were prohibitive. Since the beginning of NAFTA the United States now has free trade agreements with Jordan, Chile, Singapore, Australia, Morocco, Bahrain, the Dominican Republic and five countries in Central America; Costa Rica, El Salvador, Guatemala, Honduras and Nicaragua. The United States has recently signed free trade agreements with Peru, Colombia, Panama, and Korea, and is currently negotiating a free trade agreement with Malaysia. The U.S.-Oman Free Trade Agreement will enter into force upon Oman's completion of its domestic procedures.
Small American retailers have gained a new shipping perspective by understanding and utilizing national trade agreements that benefit all retailers. FashionMensWear.com has always been an importer of men's wear and men's accessories from Italy, Spain, and other ports of call, and now they have enlarged their operations by becoming retail exporters to 150 countries. According to Giovanni Marquez, "our new thrust is very exciting. We are pleased to increase our market share by expanding our reach well beyond our shores." International customers make up approximately 16 percent of our total volume and FashionMensWear.com is growing that number significantly every year. An analysis recently concluded that customers are on the move either through job changes or quality of life changes, but they take us with them, regardless of where they end up. The flexibility and portability of the Internet has created an international network of customers, and the ability to ship to 150 countries solidifies a successful conclusion to every sale.