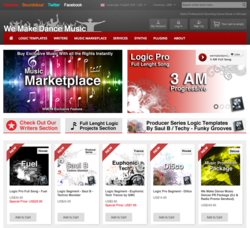 We Make Dance Music
Inspire - Educate - Evolve
(PRWEB) September 18, 2012
Music Producers and enthusiast around the world will now be able to get instant inspiration with this new concept of music production templates. We make dance music aims at streamlining the creation process providing professionally produced templates for the most popular digital audio workstations. The site will cover the most popular genres like House, Trance, Techno, Breaks and more.
Products:
We are offering a variety of music production templates as well as production services. Templates for Apple Logic Pro are added weekly to the site. Services like Mixing and mastering are available within the site. We also plan to add templates for Ableton, and Cubase shortly.
Marketplace:
The marketplace is a new concept where clients are able to purchase ready-made songs. The transaction includes all of the rights and copyrights to the composition. After the purchase clients will have access to the master recording file, audio stems, midi files and in some occasion the workstation project files.
Ghostwriting:
We are also offering a made to order music solution, again all of the compositions are delivered and 100% of the rights and copyrights are transferred to the client.
Site Features:
Integrated payment solution via credit card or Paypal.
Instant product download.
Products overview videos.
Free plugins and VST (Shareware)
About the founders
We are a crew of passionate dance music producers and engineers who thought sharing knowledge and experience for a small fee is a really cool idea.
Contact: Vanessa Webber : Vanessa.w(at)wemakedancemusic(dot)com
Web: http://www.wemakedancemusic.com
Twitter: http://twitter.com/makedancemusic
Youtube: http://www.youtube.com/user/wemakedancemusic