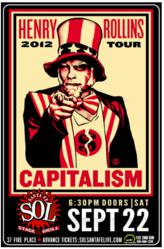 Santa Fe, New Mexico (PRWEB) September 16, 2012
For better than a quarter century, Rollins has toured the world as a spoken word artist, as front-man for both Rollins Band and Black Flag and – without a microphone – as a solitary traveler with insatiable curiosity bypassing the resorts in favor of places like Siberia and Senegal, or Burma and Bangladesh. When he's not living out of a backpack, Rollins is constantly at work as an actor, radio DJ, author of more than 20 books, and running his publishing company and record label 2.13.61. Henry currently hosts a weekly radio show on L.A.'s renowned NPR affiliate KCRW, is a regular columnist for LA Weekly, and is hosting National Geographic's new three-part series Animal Underworld With Henry Rollins, following of a pair of Nat Geo television specials in late 2010 and early 2011. This event and the whole 2012 Santa Fe Reporter Arts Festival is featured on SantaFe.com.
In describing Henry Rollins, the tendency is to try to squeeze as many labels as possible into a single sentence. "Rollins is many things," says the Washington Post, "diatribist, confessor, provocateur, humorist, even motivational speaker…his is an enthusiastic and engaging chatter." Entertainment Weekly's list includes: "Punk-rock icon" and "Spoken word poet".
Actor, author, disc jockey, is there anything Henry Rollins cannot accomplish? TV Guide has more concisely called him a "Renaissance Man" – but if Henry Rollins could be reduced to a single word that word would undoubtedly be "workaholic."
Ticket Info: Purchase Tickets Online
Tickets: $20
About SantaFe.com:
SantaFe.com provides locals and visitors to Santa Fe alike the most current interactive platform for events, music, arts, business, dining and lifestyle. SantaFe.com is a division of Hutton Broadcasting, located at 2502 C. Camino Entrada, Santa Fe, NM 87507
Contact Information:
Scott Hutton
SantaFe.com / Hutton Broadcasting
http://www.santafe.com
(505) 471-1067 (Media inquiries only, please)