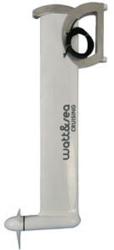 Fort Lauderdale, FL (PRWEB) September 18, 2012
Challenges of Energy When at Sea
Once a sailboat has left the docks, is totally isolated from utility (grid) power. The production of energy on any boat is crucial to powering communications, navigation lighting and other energy consuming devices. Operating diesel engines and generators are costly, noisy and are environmentally unsanitary. The clean energy solution is the Watt&Sea Hydrogenerator, which easily deploys off the back of the cruising or racing vessel efficiently generating power for energy independence. A video of the hydrogenerator can be seen on YouTube.
An Old Concept with a New Performance
The principle is simple: using the speed of the sailing boat to turn an immersed propeller and produce electricity. The high-tech sleek hydrodynamic design of the Hydrogenerator produces high output power with very low drag and noise while being lightweight and easy to deploy. Energy production begins at 3 kn of speed and the energy cost produced is a competitive solution. The energy production is typically twice that of solar panel and wind generator alternative energy solution allowing reduction in battery bank size and fuel storage reducing vessel weight and increasing performance. It adds another level of safety and security knowing energy production is at hand should other alternatives fail. Environmentally it replaces the non ECO-Friendly generators using fossil energy by producing non-polluting renewable energy!
Performance Matters
It is lightweight, compact and easy to install on the boats transom. Deployment and recovery is easy taking only seconds thanks to its unique lifting system (similar to a rudder). It is maintenance free, generating 240 amp-hours day @ 5 knots. It weighs 17.7 lbs and comes complete with an external automatic regulator: http://www.emarineinc.com/categories/Hydrogenerator/
Nominated to the Design Award Mets 2011, Watt&Sea Hydrogenerator is a highly powerful non-polluting solution for independence of energy and safety equipment on board sailboats.
About e Marine Systems
e Marine Systems is a division of MGP Systems, Inc. with its corporate and sales offices, warehouse and showroom located in Fort Lauderdale, Florida since 1999. e Marine Systems is a large distributor of solar panels, wind generators, hydro generators, and related renewable energy components. Services include design support, field installation and a factory repair center. Online shopping/ordering at http://www.eMarineSystems.com. Member of ABYC.