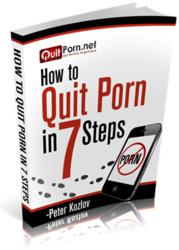 Santa Fe, NM (PRWEB) September 18, 2012
Author Peter Kozlov, a former porn addict, today announced that his new book, "How to Quit Porn," is now available for purchase at http://www.quitporn.net. Through the book, Kozlov describes his experiences and addiction to pornography, his battle to overcome the addiction and his roller coaster ride in trying to find techniques that would truly allow him to control the behavior. The book provides a concise account of Kozlov's story and how he overcame his dangerous addiction.
"I've spent years addicted to porn and have sought countless solutions to find ways to break the habit and alleviate the craving, but nothing has worked until now," said Kozlov. "Unlike most sufferers, I found my own way to fight back to a healthy life by getting rid of my addiction."
As Kozlov can testify, the Internet is a major problem for those with pornography addiction as it has created an explosion in the number of men and women addicted to porn, primarily because the Web makes accessing pornography so easy, Kozlov said.
Kozlov's book is timely as porn addiction is reaching epidemic proportions in the United States. According to recent survey conducted by GrowthClimate.com, of more than 4,000 American men, 53 percent view pornography at least three to five times each week with 30 percent of respondents using their work computer to watch pornographic materials. Most importantly, according to the study, nearly 75 percent of these men want to break this habit, but do not know how to quit porn.
The problem doesn't just affect men. Alarmingly, 10 percent of the overall surveyed population said they were addicted to porn; 28 percent of whom are women.
"Like most other forms of addiction, porn addiction also brings about feelings of alienation and hopelessness; life, work and personal relations are severely affected as the addicted person always looks for an opportunity to find and watch porn," said Kozlov. "I've been through all of these stages, have lost loved ones and was on the verge of getting fired because of my addiction."
Kozlov's struggle with addiction was controlled because of a lot of hard work and extensive research, which were the foundation of his book "How to Quit Porn in 7 Steps."
The book helps readers understand why people become addicted to porn and why it is so difficult to quit the addiction. It also provides guidance for building healthy habits for eliminating the craving for porn. In addition, Kozlov offers excellent guidelines to overcome relapses and reduce porn triggers.
"How the Quit Porn in 7 Steps" is now available at http://www.quitporn.net for $27, which includes a 60-day money back guarantee to all buyers of the book.
For more information about Peter Kozlov or to purchase, "How to Quit Porn in 7 Steps," visit http://www.quitporn.net.
About Peter Kozlov
Peter Kozlov is a former porn addict who recently created a simple, practical guide to help porn addicts face and quit their pornography addiction. Apart from his book named "How to Quit Porn in 7 Steps," Peter also created the site QuitPorn.net, a comprehensive website that offers tips and guidance to help those struggling with pornography addiction.