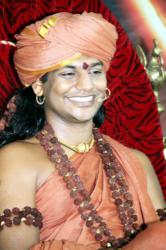 2012 will make Enlightenment like newspaper being delivered to everyone door to door. But if you don't know how to read, then even the newspaper will be useless. It is time for everyone to learn unclutching and prepare oneself.
Los Angeles, CA (PRWEB) September 16, 2012
On Sep 16th at 8:30 PM Indian Standard Time, the webinar started with His Holiness Paramahamsa Nithyananda saying that the 2012 phenomena is either a Dooms Day or Enlightenment. It is everyone's own responsibility to make it either. Planet earth is going to enter into a new consciousness and there is going to be a huge change up to the end of 2012.
Paramahamsa Nithyananda said, "Just like how the use of Television outdated the theater and the internet revolution outdated the television, same way, the 2012 is opening up a huge possibility and creating a huge natural current wherein the enlightenment will be delivered like newspapers freely to everyone door to door. But if people don't even know how to read, then even the newspaper will be useless. Whether one understands or not drastically the number of thoughts necessary to run one's life is going to drop. If one has prepared oneself to live with less number of thoughts, they will use this natural current to get enlightened."
Paramahamsa Nithyananda said, "The 2012 phenomena will create a huge shift in human consciousness. Nature is providing the ambiance for humanity to experience the space of restful awareness. Are you going to use that space and make yourself enlightened or are you going to live with the same old mind and destroy yourself? For the ones who cannot use the change and who cannot jump into that new consciousness it will be dooms day for them. For the ones who can jump into the new consciousness, it is going to lead to enlightenment.
"It is time for humanity on a mass scale to learn unclutching, learn to be comfortable with less number of thoughts, learn to get settled with the deep silence and restful awareness and peace. It is very difficult to settle with restful awareness. Societal conditioning has always branded restful awareness as a sadness. Unfortunately human beings are taught from young age that less thought means sadness, morose. It is time to stop those patterns and to get rid of those engrams. One need to learn to understand, to feel settled with, a restful awareness. Whether you understand or not, drastically the number of thoughts necessary to run your life is going to drop. Societies which believe number of thoughts is equivalent to intelligence, all those societies are going to face depression heavily. They are going to face huge economic meltdown because of their depression there is going to be a big chaos, because there will be huge tsunami of depression.
Restful awareness is the state where visualization will be getting processed just as visualization, without verbalization in our inner space. The state in which one will experience the visuals getting processed as visuals itself without provoking or instigating any verbalization. Restful awareness is a state in which the visualizations are not going to instigate any verbalization. It is as if internal and external sound is muted and there is no sound internally or externally. I sincerely welcome inspire everyone of you to experience restful awareness. From December 12, 2012 until 2013 the whole world is going to experience this space. If one is prepared they will jump to enlightenment, if not they will get frightened and fall into depression."
This Nirahaara samyama (initiaiton into the no hunger spiritual practise) and all the different samyamas, meditation processes that His Holiness Paramahamsa Nithyananda is freely sharing with the whole world, is aimed at preparing each one to be comfortable with restful awareness.
His Holiness Paramahamsa Nithyananda answered few live questions from viewers across the world. One of the questions from Stanford, USA was whether 2012 was a force propelled by man or actions of nature. He said, "The 2012 is propelled by forces of nature but when the forces of nature act on human mind, the actions of man which is going to happen, will only really impact the whole humanity. It is propelled by forces of nature. When the forces are going to put human beings into depression the actions of man will be very dangerous. Now man is foolishly empowered. Not intelligently empowered. Intelligently empowered means ability to create and conquer. Foolishly empowered means ability to destroy. The actions of man propelled by forces of nature is going to be really chaotic, it will create chaos, only you can save yourself, no one else can save you. "
When he was asked what was going to happen during the Inner Awakening program scheduled between December 12, 2012, Paramahamsa Nithyananda replied, "This is the biggest problem. Even I am not able to predict what is going to happen. This December Inner Awakening is going to be equivalent to 108 Inner Awakening programs. If you ask me what is special during this 21 Day Inner Awakening Spiritual Retreat, it is equivalent to 108 Inner Awakening Programs. I don't want to get into the details because I don't know the details. I strongly recommend don't miss this December 2012 Inner Awakening even if you are a Inner Awakening graduate."
New video on Kundalini Awakening: http://www.youtube.com/watch?v=nDqucDVeX7Y&list=PL0FB8081ADA23BF41&index=15&feature=plcp
Webinar on Kundalini on Sep 29th: http://www.youtube.com/watch?v=yi8wxQzw_lI&feature=relmfu
About His Holiness Paramahamsa Nithyananda
Paramahamsa Nithyananda is a global spiritual leader in the pure Vedic science of yoga, meditation, kriyas, kundalini awakening, enlightenment & Inner Awakening, levitation, teleportation & materialization. Clear, dynamic and modern in approach, Nithyananda's teachings have already transformed 15 million followers in 150 countries with the fastest growing spiritual community around the youngest incarnation. Over 2000 hours of discourses are on http://www.youtube.com/lifeblissfoundation. Revered as a living avatar (divine incarnation) by millions worldwide, Paramahamsa Nithyananda is the most searched for spiritual teacher on the internet with more than14 million views. He is also the author of more than 300 books published in 27 languages.