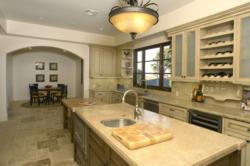 Whether remodeling a kitchen, constructing a room addition, or installing replacement windows, millions of Americans each year undertake some type of home improvement.
Los Angeles, CA (PRWEB) September 18, 2012
For many home owners, home improvement is important as they plan to age in place, so they are trying to find ground floor bedrooms, larger bathrooms, and accessible countertops. For other homeowners, getting a room addition is essential as the family simply outgrows its current home size.
Another type of owners include those for whom investing in their homes as a way not only to improve their safety and comfort, but also their ability to build wealth and achieve financial security as home improvement is known to boost the property value. While these homeowners renovate only to add value to their homes or make them more marketable, many of today's homeowners are simply seeking comfort and functionality, a place to live and relax; a safe serenity.
Important Improvement Projects
As a result of current trends in the real estate market, more and more property owners choose to renovate and add size to their current residence instead of getting into the process of relocating to a new home.
"When we moved in Ten years ago as a young couple, we couldn't spend the money for large three bedrooms house we always dream about," says Jack Merritt from Studio City, CA. "Instead we opted for a more compact two bedroom house. Despite its size, it had a large backyard, a fireplace, and adequate space to raise our newborn baby. Ten years later, our infant has become a big guy and we basically felt we needed more room. At first we though to merely move to a larger house but this is popular neighborhood and prices are sky-rocketing so we decided to simply add a room to the existing structure. After screening several of local contractors we decided to hire LA Build Corp as we found their offer to be the very best value and because from day one we were impressed by their efficiency and experience. Eloise Fernadez says, "Indeed, we were as very pleased with the result as we were with the process. The LA Build Corp team was experienced and well-mannered. They were understanding of our privacy while working through our day to day routine and most important, we had our room addition on time and within spending budget."
Raising Property Value
Today's real estate markets are full of aging houses where returns on investment are high and usually exceed the costs of home improvements. Of course, some kinds of improvements do far better in certain places. For instance, building a wood deck in Santa Monica, Calif., or Hawaii is a solid investment
Another significant factor is the type of improvement as some improvements are more likely give your home more appeal and help it sell faster. High-end kitchens and opulent master bedrooms tend to be real selling promoters almost anywhere around the country.
Enhancing Comfort and Functionality
Many home remodeling projects trends are determined by comfort and functionality. These types of factors can be often seen in bathroom and kitchen remodeling projects as with high tech gadgets and designer finishes.
The kitchen is beginning to change and expanding as homeowner preferences in kitchens include computerized, commercial-look stainless-steel appliances, sculptural stove hoods, designer dishwashers, and custom counter tops, to name a few.
Bathrooms are becoming a lavish retreat with extra-large "rain" shower heads, body-spray showers, steam showers, solid surface shower walls, and heated tile floors. The newest in bathroom technology presents the new whirlpool tub with a 42-inch flat screen TV built in.
For more information on room additions and home remodeling, contact LA Build Corp at 1-877-628-5292 or log on to http://www.LABuildCorp.com. Feel free to schedule your free estimate.