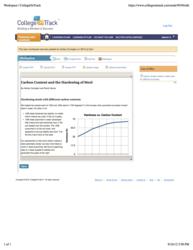 Learning Plans provide a structured approach to projects, support student collaboration, and accommodate a variety of methods of expression.
Palo Alto, CA (PRWEB) September 19, 2012
CollegeOnTrack has enhanced its college planning platform with the addition of Learning Plans and team-based learning, part of a new Personalized Learning module that also includes student assessment tools.
Learning Plans promote educational equity by supporting several elements of culturally relevant teaching. Marketing V.P. Phil Roybal says, "Learning Plans provide a structured approach to projects, support student collaboration, and accommodate a variety of methods of expression."
Learning Plans create a scaffolding of goals, milestones, and tasks that teachers use to help students organize their approaches and see tasks in the context of broader goals. For example, a group of teachers might collaborate to define a senior class project, with a rubric for assessing results. The project could have milestones with deadlines spanning several months, each with a weighting in the overall goal. A milestone is the result of accomplishing a series of tasks.
Teachers can assign the Learning Plan to groups or individuals. They may supplement it with their own Learning Plans, tailored to their individual approaches. Counseling firms and advisors could have Learning Plans as well. Plans can be graded or ungraded. They can allow online submission of documents in multiple media.
As students check off tasks, progress bars advance on the Status page, so advisors can tell at a glance who's on track and who needs help. Students learn how even large projects can be broken into steps and addressed. They see project milestones on their calendars, and that helps them stay organized.
Schools and counselors can help students develop the collaborative skills they'll need as adults with Learning Plans built for teams. Students work collaboratively on team based plans using online workspaces, group editing, and in-system messaging capabilities. Students can contribute text, videos, music, pictures—whatever their learning styles incline them toward.
Learning Plans become part of an organization's library, available to all staff. A new History teacher, for example, could simply pick a previously developed Learning Plan on the American Civil War, set the milestone dates, and assign it to this year's students.
CollegeOnTrack is now offering webinars on the use of its college planning tools. Readers can request information or a presentation at http://sales.collegeontrack.com.
About CollegeOnTrack
CollegeOnTrack is a web-based system that enriches the learning experience in middle and high school as it prepares students for college and successful careers. It offers a combination of rich digital portfolios, collaboration support, and task management that helps students build a mindset of success.
For more information about this topic, or to schedule an interview, contact Philip Roybal at (408) 782-4244, or phil(at)collegeontrack.com.