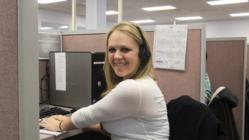 You can absolutely count on Melinda Howard to deliver performance
Spokane, WA (PRWEB) September 18, 2012
Sound Telecom, a leading nationwide provider of telephone answering, call center and unified communication services, today announced Melinda Howard is awarded the August 2012 SuperAgent Award, an extraordinary accomplishment winning it for the fourth time this year.
In a world of never ending competitive differentiators, few things really stand out to make a company different. Agent excellence is a major call center differentiator. Melinda's consistent and quality performance is exactly why Sound Telecom stands apart from other call centers. "Melinda's positive attitude and fantastic customer service skills exemplify everything that we stand for," comments Brian Gabriel, Chief Operations Officer for Sound Telecom.
"The Sound Telecom SuperAgent award is given to the call center agent who earns the highest number of quality call monitoring scores during the month. Sound Telecom has never produced a 4-time winner before, but nobody was surprised when it turned out to be Melinda!" adds Cheryl LaBaw, Sound Telecom's Director of Customer Relations. Melinda won the SuperAgent award this month with an overall score of 98.23%. Melinda is proof that a professional, service-oriented approach combined with a strong work ethic can make you a winner; a four time winner, in fact. Melinda achieved an important new benchmark for Sound Telecom's service department and sets the bar very high. Competition for the prestigious award was spirited in August with several of Howard's fellow team members achieving exceptional scores; Amy Jorgensen received second place honors with a 97.30%, Phil Visnaw third with 96.40% and Tyler Christianson fourth with 96.36%.
The SuperAgent award is part of an aggressive quality performance program developed by Sound Telecom. The goal of the program is designed to monitor both call quality and operator performance. By measuring both types of quality metrics simultaneously Sound Telecom develops a balanced approach to call center performance that produces excellent results and superior customer experience. Over half of Sound Telecom's call center agents regularly score at the highest 10% level of performance metrics. The program regularly produces high achievers because agents see immediate recognition for results. Sound Telecom's agents focus on providing professional, friendly, and courteous service because it's the right thing to do and it is deeply engrained in the corporate culture.
"You can absolutely count on Melinda Howard to deliver performance," says John Dubay, Sound Telecom's Director of Call Center Operations. "Melinda can do anything she puts her mind to. We are all so pleased that she is a part of our growing team."
About Sound Telecom
Sound Telecom is a leading provider of 24 hour Telephone Answering, Call Center and Unified Communication Services, headquartered in Seattle professionally serving thousands of customers throughout the United States and Canada with USA based agents. The twenty-six year old company has offices in Seattle and Spokane, Washington and Denver, Colorado. For more information, please visit http://www.sound-tele.com.
Contact Information
Michael L. LaBaw, President
Sound Telecom
800-577-1550
http://www.sound-tele.com
###