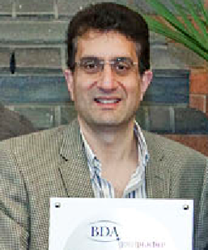 (PRWEB) September 17, 2012
Tariq Drabu leading Manchester dentist today warned his colleagues that uncertain times lay ahead for dentistry in England. In a wide ranging interview on the current state of affairs of dentistry in England, he warned that dentists must be at the forefront of change if they are to survive and prosper.
Tariq Drabu said "dentistry is in a state of flux.The NHS dental contract imposed in 2006 has not proved to be a success. This contract was supposed to deliver on prevention but has instead only focused on targets. Many dentists feel that they are still working on a treadmill where you have to work faster to keep at the same level of output for decreasing levels of reward."
Tariq Drabu went on to say "the current government acknowledges that this contract is deeply flawed. It is piloting new ways of working at many sites across England with a view to establishing a new dental contract within the next three years. These pilots are looking at different models of service delivery. For once it appears that the government is working with the profession rather than trying to impose a contract. However only time will tell whether the new contract that will be introduced will be a success. This new contract is being established that the same time as major reforms in the NHS are being undertaken with the abolition of local Primary Care Trusts and their replacement by GP commissioning groups. This has led to wide uncertainty amongst NHS organisations as a whole regarding the direction of travel."
Turning to the current economic climate Tariq Drabu went on to say "The imposed NHS dental contract of 2006 saw a substantial number of dentists leave the NHS and go into the private sector. However as economic conditions became more difficult those initially profitable private practices are now finding times quite tough. Those practices that adapt and survive in this new harsh economic climate will succeed. However there are many stories of private dental practices now going bankrupt or facing severe financial difficulty. This state of affairs is worrying."
Looking at the current job situation in dentistry Tariq Drabu said "New dental graduates are coming out of university with substantial levels of debt. To make it worse there is now real dental unemployment in the UK, a state of affairs unheard of even five years ago. All new graduate dentists are supposed to be given a training post in the first year. This year that has not happened and the recruitment and selection process for these training posts has been severely criticised by the profession as a disgraceful state of affairs. There is a large influx of EU dental graduates many of whom have poor linguistic skills and are very unfamiliar with how our NHS works. This compounds the problem of dental unemployment. There is not just a question mark about their communication abilities but also the amount of experience that they have actually been exposed to as undergraduate students."
Tariq Drabu was critical of the The General Dental Council which is supposed to protect he public. He said "the General Dental Council as a regulatory body appears to be powerless to act in these situations and it must get its affairs in order."
Looking at proposed changes in workforce Tariq Drabu said "There is an increase in the number of dental therapists who are able to undertake a wider variety of dental treatments than ever before. This raises the very real prospect of dental therapists doing more and more of what a dentist used to do. Most commentators feel that over the next decade the way that dentistry is delivered to the public will change beyond all recognition. The dentist will be seen as more of a team leader and more and more of the frontline dental treatment will be delivered by dental therapists and extended duties dental nurses. This again raises the real prospect of dentists being unemployed over the next decade. Whether dentists and the British Dental Association will sit idly by and watch as this state of affairs unfolds is another matter. The General Dental Council is also looking at the possibility of direct access for the public to see for example a dental hygienist without having to see a dentist in the first instance."
Tariq Drabu concluded by saying "Overall dentists will have to adapt and change to new working conditions, new threats and opportunities and a changing dental landscape. Those that do not may well fail but those that do will survive and prosper."