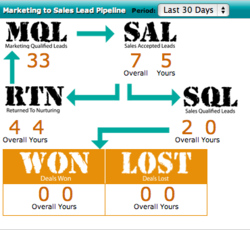 Typically you need to have at least one database analyst and a couple of developers on your staff to get anywhere near the capabilities that SalesView offers out of the box
Minneapolis, MN (PRWEB) September 17, 2012
Genoo, LLC, today announced its new SalesView features that serve as a marketing-integrated customer relationship management (CRM) system for small to mid-sized businesses. SalesView creates a unified, trackable, intelligent sales dashboard for businesses.
"Over the last 30 years I have worked with MAS90, TeleMagic, MarketForce, ACT , SalesForce and many others. Out of all of those systems I have never seen a solution like SalesView," said Genoo customer Peggy Albert of Arrowhead Medical Resources, LLC. "The integration that it provides with our Marketing Group and Sales Teams is amazing. I'm sure our sales groups both in the field and in our office are going to really enjoy the intuitive simplicity of working with this CRM. Typically you need to have at least one database analyst and a couple of developers on your staff to get anywhere near the capabilities that SalesView offers out of the box."
Genoo already integrates with the large CRM system Salesforce.com, but Genoo President Kim Albee noticed that for many small to mid-sized businesses, that solution was overkill. Too often businesses spend thousands of dollars to set up a CRM system that no one in the company wants to use or that takes too much of their time to manage. SalesView creates a single page that any sales person can use to take qualified leads from the marketing system and then identify and pursue opportunities and turn that lead into a customer.
"If you have a smaller sales force, you really need a few key tools," Albee said. "With SalesView, a lead continues to be tracked by Genoo's marketing software, so while the sales person is following up with them, they can see if this lead went out and viewed a video recently or downloaded an eBook on a topic, and they can customize their approach to that person based on their interests."
Genoo's SalesView allows sales people to keep an annotated list of their leads with associated activities and calendar tasks. They can also see a pool of leads that the marketing department has scored as sales-ready and claim leads from that pool to put in their personal queue. For any lead they've selected, they can send them personalized emails, add notes, create opportunities, and view the latest activities those leads have taken, including visiting the company's website and viewing or downloading resources.
About Genoo, LLC
Genoo, LLC, a Software as a Service (SaaS) offering of integrated online marketing tools for the emerging marketing automation needs that all organizations must embrace to compete. Genoo's mission is to provide marketing automation and online marketing tools for the small- and mid-sized market. Genoo's tools have enough flexibility and functionality for large corporations, but are affordable and accessible to every marketer who needs them. (http://www.genoo.com)