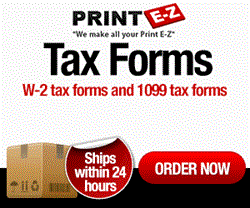 Higher levels of manpower cannot be sustained in this economy and therefore a higher level of efficiency is required for the process of filing tax forms
Monroe, NY (PRWEB) September 26, 2012
Print EZ announced that filing W-2 forms has been made easier with the launch of a large variety of these forms that can be ordered almost instantly. The tax forms retailer who recently changed the entire look and feel of their website also made sure that they did a complete overhauling job on the various categories that they offer, starting with business envelopes and business tax forms.
CEO, Morris Rose stated, "Print EZ is aware that there are a fair number of resources that are utilized in the process of filing tax returns. Higher levels of manpower cannot be sustained in this economy and therefore a higher level of efficiency is required for the process of filing tax forms." The company seems to appreciate the financial pressures that almost all companies are facing these days and is working towards reducing the burden of tax filing, especially for small businesses that cannot afford a large number of employees on payroll for the quarterly and yearly tax filing processes.
Among the many forms that businesses have to file, W-2 forms are fairly significant in number. This is because they a W2 form needs to be processed and created for each and every employee of the company. In addition to that there are 6 copies of each W-2 form that need to be printed for various parties including the Social Security Administration, the employee, the employer and the state or local tax authorities.
Understanding this need, PrintEZ.com has launched a range of W-2 forms that cater to various kinds of needs. The company has options that can be used for continuous printing or for laser printing. There are also options for various kinds of formats to ensure that each and every customer finds the one that is compatible with their software. Despite these options, PrintEZ.com has also added various type of sealing options like the pressure seal or the self-mailer to add to the convenience of their customers. Kits that include these W2 forms along with the right size of envelope have also been added to the range.
Personnel at PrintEZ.com explain that the product variety to the online W-2 form range has been decided based on an understanding that pre-printed tax forms will reduce the work load to a manageable level. Pre-printed W2 tax forms take a lesser amount of time to print. They also state that using continuous tax forms can help save time to a larger extent. If a customer orders matching preprinted-printed envelopes, the process of mailing the tax forms becomes even easier.
Not only does the company provide tax forms that can be printed quickly, PrintEZ.com has also ensured that they ship all orders within 24 hours. While shipping time does vary depending on the destination of the parcel, PrintEZ.com guarantees that all tax form orders shall leave their doorstep within a day in all cases.
In addition to that, the company claims that all the tax forms that are found on their site are updated and meant for the current year. There does not seem any doubt that this online tax form retailer is making sure that all aspects of tax form processing, printing, mailing and filing is taken care of in all ways that it can be.
Online retailers, PrintEZ.com also offer business forms, mailing envelopes, labels, computer and business checks and even promotional products and food gifts too. With the range of business printing solutions that the company offers, this online retailer is probably trying to ensure that the customer never really needs to look elsewhere for printing solutions. As Morris Rose, CEO suggests, "Once a customer tries PrintE-Z.com, it is almost impossible to find better options, products and service too."
To read more about W-2 Tax Forms click here http://www.printez.com/w-2-tax-forms.html
Get more information about how Print EZ offers and new launches on Tax Forms call the company at 1-888-246-0635.
and get regular updates of new offers and deals here.
Print EZ
4 N Main St.
Monroe, NY 10950
(845) 782-5832