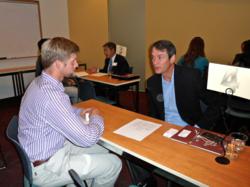 I find cultural differences in the people in each of the countries in which I work. I respect those differences and have learned how to conduct myself when working or socializing with my colleagues. - IBM's Carita Watson
Denver, CO (PRWEB) September 18, 2012
More than 40 college students got the rare opportunity last week to gather pearls of wisdom from a dozen internationally focused business leaders during "Speed Mentoring for International Careers," a program by the Foundation for Global Scholars, a nonprofit organization providing scholarships for U.S. undergraduate and graduate students pursuing academic and internship programs abroad.
"While there is a certain allure to international study or international work, there is a lot of work that must be done before that can be realized," said Anthony Christie, chief marketing officer at Level 3 Communications and a mentor for the event, which took place Sept. 13 at the Center for Community at the University of Colorado at Boulder. Christie talked with students about the importance of preparation for successful international careers, including language acquisition, understanding of local cultures, and recognition of what it feels like to be a minority. "International experience is rewarding," he said, "but international experience related to a field of interest is even more rewarding."
Mentors for the event, sponsored by GlobaLinks Learning Abroad, the CU-Boulder Office of International Education, CU-Boulder Career Services Center, and Wells Fargo, included:
Tom Bove, general partner, SV Capital
Gaëlle Callnin, chief marketing officer, Virtual Worlds Translations
Kai J. Chin, vice president of business banking, Wells Fargo N.A.
Anthony Christie, chief marketing officer, Level 3 Communications
Justin McComb, external partner relationships and business development, Evolve
Megan Prentice, community outreach manager, Project C.U.R.E
Barbara E. Schiola, corporate HR manager, Ball Corp.
Neal Shah, senior manager of corporate development, Molycorp
Meg VanderLaan, vice president of corporate communications, MWH Global
Carita Watson, director and global transformation executive, IBM Global Technology Services
Sandra Zoratti, speaker, author and vice president of marketing, Ricoh
Fittingly, the idea for the speed mentoring event was born from the curiosity of a student who recently studied abroad and wanted to capitalize on that experience to start building her own international career. The student, Chloe Sweem, a senior at the University of Denver and an intern at the foundation, was then charged with conceptualizing, planning and executing the event, which paired students with Colorado business leaders for short networking intervals. "It was fantastic to see those mentorship conversations come alive," Sweem said. The event also included workshops on personal branding, "going global," studying abroad, and working for the U.S. Department of State.
"The Foundation for Global Scholars is focused on preparing our young, evolving workforce for a global economy," said Nancy Kepner, executive director. "Since our founding, we've given more than $1 million and served more than 1,000 students. This mentoring event is just another way for us to strengthen connections between business leaders with a global perspective and the students who will make up their future workforce."
Carita Watson, director and global transformation executive of IBM Global Technology Services, encouraged students not to ask how they can get a job overseas, but to instead ask how they can find a company that fits their interest in an international career. "You need to find a company that fits your desire," she said," and make sure it's right for you culturally, and you're right for it." In addition, a study abroad or internship abroad is a plus in a job candidate. "I think that's key in this global business environment," she said. "I find cultural differences in the people in each of the countries in which I work. I respect those differences and have learned how to conduct myself when working or socializing with my colleagues."
Students came away from the speed mentoring event with new contacts, reality checks on working abroad, and deeper questions to ask as they launch their careers. Matthew Smith, a junior at CU-Boulder studying business, economics and political science, planned to follow up with several mentors for information or possible interviews, and continue to build his personal brand. From speaking with one mentor, he realized he needed to manage his expectations about the difficulties of working internationally. Even so, he is hopeful about his prospects. "I've noticed there are always jobs out there if you are willing to work for it."
For more information on scholarship and networking opportunities, visit the Foundation for Global Scholars website.
About the Foundation for Global Scholars – "A million dollars given, 1,000 students served" - The Foundation for Global Scholars is a 501(c)3 nonprofit organization located in Westminster, CO, serving U.S. undergraduate and graduate students pursuing academic and internship programs abroad. Through scholarships for international study, the foundation empowers future leaders to become better prepared for the fast-changing global marketplace and interdependent world. For more information, visit http://www.foundationforglobalscholars.org or call 303-502-7256.
###