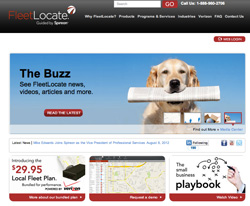 Working together, we can advance the way fleet owners are connected to their mobile assets and gain real-time actionable business intelligence delivered through Spireon's information platform and the Verizon Wireless network.
Knoxville, TN (PRWEB) September 18, 2012
Spireon, Inc., a leading innovator of Mobile Resource Management (MRM) and business intelligence solutions used by companies to maximize their mobile assets and workforce, has entered into a strategic relationship with Verizon to deliver its FleetLocate, fleet management solutions.
Now, small, medium and large businesses with fleet operations can better manage their mobile business by combining Spireon's leading GPS business intelligence platform and the Verizon Wireless network, known for its broad coverage, reliability, speed and performance.
"Working together, we can advance the way fleet owners are connected to their mobile assets and gain real-time actionable business intelligence delivered through Spireon's information platform and the Verizon Wireless network," explains Spireon CMO Brad Jarvis. "This new agreement immediately extends Spireon's distribution and sales reach."
Spireon will certify and combine its proven capabilities with the Verizon Wireless network to deliver new M2M solutions. Together, Verizon and Spireon sales teams will work side-by-side to package FleetLocate and Verizon offerings for any size business that operates a fleet of vehicles. The two companies have showcased their capabilities together on several stops on the Verizon Connected Technology Tour, which aims to showcase how M2M communications can create new business opportunities.
"With Spireon, Verizon is working to advance fleet management capabilities through machine-to-machine communications," said John Sullivan, executive director, machine-to-machine platform for Verizon Enterprise Solutions. "In addition to Verizon's holistic solutions, Verizon customers benefit from a growing ecosystem of technology partners we work with to develop a wide range of industry-specific opportunities. Our relationship with Spireon is an example of how Verizon brings together best-of-breed capabilities to meet our customer requirements."
Spireon has developed a specialized team of sales, professional services and installation experts around the FleetLocate program; including opening a new call center dedicated to supporting and servicing FleetLocate's Verizon customers around the clock.
"By bundling our solution with Verizon's network, both companies will be able to deliver the utmost quality and reliable technology cost effectively," adds Jarvis. "New customers of Spireon and Verizon will be able to gain new insights in controlling their fleet costs with a focus on increasing ROI."
To learn more about how Spireon and Verizon are joining forces, visit localfleet.fleetlocate.com.
About FleetLocate by Spireon
FleetLocate is a powerful, flexible and scalable information platform that provides continuous real-time visibility for fleets of all sizes. Featuring exception-base reporting, FleetLocate is an effective tool for improving operational efficiency and compliance by eliminating unauthorized vehicle usage, reducing fuel costs, increasing the number of loads per trailer, reducing the need and associated costs for rental trailers and reducing greenhouse gas emissions. FleetLocate also provides the business intelligence to help fleet managers improve safety and affect positive changes in driver performance. The interface is simple to use, easy to navigate, and provides a comprehensive suite of reports designed to help businesses better manage their fleet operations and address many of the operational dilemmas they face daily.
About Spireon
Spireon, Inc., is at the summit of business intelligence and committed to going higher. Headquartered in Knoxville, TN, the company emerged in 2011 as the industry leading Mobile Resource Management (MRM) company as a result of the merger of Spireon, Inc., Inc. with EnfoTrace and PFS, LLC, the top three providers in the MRM space. Spireon connects companies to their mobile assets and workforce through game changing information platforms, giving them the power to manage actionable business intelligence. Inspiring companies to reach new heights with powerful Software-as-a-Service (SaaS) based tools, Spireon provides a sturdy foundation on which to optimize performance.
With leading market positions in the Subprime Automotive Finance industry, Local & Enterprise Fleet Management and Trailer & Logistics markets, Spireon, Inc. specializes in developing strong business relationships with leading companies worldwide, enabling it to offer affordable world-class risk mitigation, mobile asset management and location based services to its customers. Spireon, Inc.'s patented array of GPS products and information platforms provide business intelligence solutions through industry brands for automotive dealers, lenders, service and delivery fleets and transportation and logistics companies. Spireon currently has over 1.5 million active devices in the marketplace and forecasts to deliver 800,000 units in 2012. With offices in the North America, Spireon has a proven track record in innovation, customer-focused service, financial stability, powerful vertical distribution networks, and a strong customer base.
For additional information, please visit Spireon, Inc.'s website http://www.spireon.com.
Contact:
Corinna Tutor
949-422-7103
ctutor@spireon.com
Forward-looking Statements:
"Safe Harbor" Statement under the Private Securities Litigation Reform Act of 1995: All statements other than statements of historical fact included in this release, including without limitation the financial position, anticipated connections to our network, business strategy and the plans and objectives of the Company's management for future operations, are forward-looking statements. When used in this release, words such as "anticipate", "believe", "estimate", "expect", "intend", and similar expressions, as they relate to the Company or its management, identify forward-looking statements. Such forward-looking statements are based on the beliefs of the Company's management, as well as assumptions made by and information currently available to the Company's management. Actual results could differ materially from those contemplated by the forward-looking statements as a result of certain factors, including but not limited to: business, financial market and economic conditions; the ability of the Company to retain key customers from whom a significant portion of its revenues is derived; whether the Company's customers continue to operate or commence operating ePorts received under the Jumpstart program or otherwise at levels currently anticipated by the Company; the ability of the Company to compete with its competitors to obtain market share; the ability of the Company to obtain widespread commercial acceptance of it products; and whether the Company's existing or anticipated customers purchase ePort devices in the future at levels currently anticipated by the Company. Readers are cautioned not to place undue reliance on these forward-looking statements. Any forward-looking statement made by us in this release speaks only as of the date of this release. Unless required by law, the Company does not undertake to release publicly any revisions to these forward-looking statements to reflect future events or circumstances or to reflect the occurrence of unanticipated events.