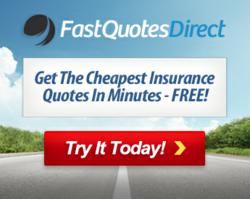 Dallas, Texas (PRWEB) September 17, 2012
Recent studies show that many consumers are overpaying for their car insurance. That may not come as a surprise, but it's not because they are getting charged higher rates than they deserve, but simply because they neglect to take the time needed to compare auto insurance rates and review their policies properly.
FastQuotesDirect.com was launched not only to provide a fast, free and easy way for visitors to their site to compare quotes from the top insurance companies in their area, but to educate the consumers on how these great savings can be achieved. The site recently released an article outlining the top 5 ways consumers are overpaying for auto insurance.
Although there are many ways people overpay for their car insurance, the most common ways are outlined below proving that savings as high as 40% really are easily attainable.
Older cars with over valued collision coverage.
It's important for consumers to check the current value of their vehicle compared to the cost per year they're paying to protect it in the chance they may get into an accident. If the premiums they're paying in relation to the resale value of the car doesn't make sense it might be a good idea to lower the premium or opt out of collision coverage if it's possible in their state.
Double Paying for Towing Coverage
Many consumers don't realize they're paying for towing coverage on their insurance policy and at the same time paying for road-side assistance. Some are even covered for free through the company they bought their car from. It's important to review what's in the policy to ensure no duplicate payments are being made.
Monthly Installment fees to pay for insurance coverage.
Often car insurance rates are broken down to a monthly rate to help consumers understand how their monthly budgets are affected, but it's important to check on your insurance company to see if they charge fees for monthly payments. Some insurance companies will charge up to $5 per month in fees for electronic fund transfer services.
Fight those speeding tickets.
The easiest way for consumers to keep their insurance rates down is to be a responsible driver. It's a known fact that there are many discounts available for responsible drivers so it's important to keep that driving record clean. If by chance a speeding ticket or any incident results in a ticket it's important to bring it to court if possible. In many cases there will be a reduction in the penalties. Being a good driver will save you thousands per year on auto insurance.
Checking insurance rates at least once per year.
The issue many consumers face is that they simply don't have time to take on the time consuming task of going online to find insurance companies in their area that are reputable and offer good discounts. Instead they decide it's better to stay content with their existing insurance policy which is the most common and costly way for consumers to overpay for their insurance coverage.
Comparing online insurance rates just got easier with the launch of FastQuotesDirect.com.
The site makes the search for the best possible insurance rates easier than ever. Cheap auto insurance doesn't have to result in a sacrifice or loss of quality of service. It's about knowing where to start. Fast Quotes Direct makes that decision easy.
By simply entering in their zip code FastQuotesDirect.com will return a list of the best insurance providers in the given area allowing the consumers to have a strong starting point. The site pre-screens all companies they work with to ensure that the visitors to there site are only being matched up to quality providers.
May consumers compare at minimum 3 different offers as different discounts are made available when they click through to receive the quote. Insurance is a competitive market, Fast Quotes Direct takes advantage of that fact and puts the power in the consumers hands offering a system where insurance companies compete for their business in a list based on their location.
Many people are seeing savings of over $560 per year by taking a few minutes of their time to compare quotes. To try the service today visit FastQuotesDirect.com.