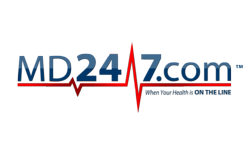 Review MD247 Telelmedicine Options!
Tampa Florida (PRWEB) September 17, 2012
Discounted supplemental telemedicine service provider MD247 alerted all new program members on Sunday that members of the program now have access to the 24/7 MD247 telemedicine Talk to a Nurse Hotline as a part of their ongoing membership as new members of the MD247 family.
The MD247 telemedicine Talk to a Nurse Hotline can let members know;

When a symptom, like a fever, become worrisome.
What marks the difference between a broken ankle and a sprained ankle.
In which situations to choose ice as a treatment over heat as a treatment.
The reliable certified telemedicine resource is staffed by registered nurses, and they are available to answer questions for telemedicine program members at any time of day all week long. All MD247 telemedicine program members have this service available to them just by picking up the phone and calling a toll free number provided to all MD247 telemedicine program members.
With the MD247 telemedicine Talk to a Nurse Hotline, members can speak with a registered nurse 24 hours a day, 7 days a week. Experienced telemedicine professionals are always available to offer expert answers to non-emergency medical questions. Simply explain the situation, detail the symptoms, and a nurses will tell you whether the case needs to be handled by one of the MD247 Board Certified Physicians or if treatment can be handled at home.
It is a simple call to the telemedicine line that could help give peace of mind in all non-emergency medical situations. And best of all, it is a part of the MD247 telemedicine program membership.
Seminole Florida based MD247 (MD 247; MD/247; M.D. 247; MD247.COM) provides discounted telemedicine healthcare services nationwide to families, and discounted wholesale telemedicine healthcare to businesses. MD247 has successfully provided 25,000 people the ability to talk to a doctor twenty-four hours a day, talk to a nurse twenty-four hours a day, receive discounted prescription drugs and receive discounted in-person healthcare services. In addition to discounted healthcare services, MD247 provides support to groups supporting the employment of veterans of the United States Armed Services. MD247 services, as well as informational blogs, can be found for review online at http://www.md247.com.