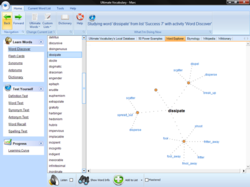 "...it's equally important to be up to date with new words and current slang."
New York City, NY (PRWEB) September 19, 2012
The 2012 list of banished words in the English vocabulary has been released by Lake Superior University. The word "amazing" received the most votes for banishment this year. Although never on a prior list, the word "amazing" received nominations from all around the world. A close second to the word "amazing," was the phrase "baby bump," which has received numerous nominations in the past.
"Every year, it's fun to see what words have been banished and what words are new," states Marc Slater from Ultimate Vocabulary. "We were definitely surprised that 'amazing' received the most nominations. However, words and phrases such as 'man cave,' 'the new normal,' and 'ginormous' probably should have been banned a long time ago. They are all definitely overused."
Started in 1976, the "banished words list" has been a popular-culture phenomenon since its beginning. Initially started as a publicity stunt for Lake Superior University, the banishment list has become an annual event with nominations submitted from all over the world. New lists are published on New Year's Day each year.
"In addition to being current with banished words, it's equally important to be up to date with new words and current slang," adds Mr. Slater. While words such as "cool," "no worries," and "geek" are still popular, new words and phrases such as "got played," "mandal," and "peeps" are coming into our everyday language more and more. With his final words, Mr. Slater states, "My peeps continue to do an amazing job with their lists. Thank you and keep up the good work."
For more information on the vocabulary improvement especially modern techniques please visit: http://www.ultimatevocabulary.com/
About Ultimate Vocabulary™
Ultimate Vocabulary provides a proven and powerful platform, built to improve anyone's vocabulary.
The interactive self-improvement system provides more learning tools than any other program on the market, as well as more information on words.
The Ultimate Vocabulary software provides each and every user with a personal computer tutor. Providing a step-by-step guide to learning a powerful vocabulary, Ultimate Vocabulary is the learning tool everyone can benefit from.
Of course, the software is also backed by eReflect's iron-clad money back guarantee.