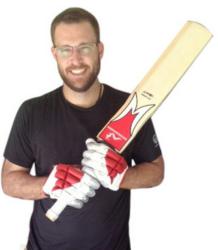 One of the most recognisable and respected players in the game and his achievements in World cricket are immense...a fantastic addition to the Woodworm playing staff
(PRWEB UK) 18 September 2012
Woodworm are delighted to announce the signing of one of the most decorated and admired cricketers in the global game, Daniel Vettori, New Zealand's most capped Test cricketer.
The world class all-rounder, with the accurate left-arm spin and crucial bat, has played 112 times for his country, in doing so becoming only the eighth player in Test history to take 300 wickets and score 3,000 runs.
The 33-year-old former Black Caps skipper will wear Woodworm clothing and use the premium range Woodworm iBat Pro Series Black Label as part of a two-year sponsorship deal.
Vettori said: "I am really excited about working with Woodworm. Their brand is one of the major forces in international cricket and their gear is of the highest order. I look forward to helping Woodworm further develop their products in the coming years."
Simon Millington, CEO of Woodworm said: "We are truly thrilled to welcome Daniel into the Woodworm family. He is one of the most recognisable and respected players in the game and his achievements in World cricket are immense. Daniel is without question a fantastic addition to our Woodworm playing staff. As a company we are committed to producing the highest quality, most innovative products in cricket and his input will be an important part of that going forward."
Vettori made his Test debut in Wellington against England in 1997 and in his Test career so far has amassed over 4,500 Test runs, including six centuries as well as 23 half-centuries, and 360 wickets with personal best figures of 12-149 (vs. Australia in 2000).
A master of flight and subtle variations, the vastly experienced Vettori is also New Zealand's leading One Day International wicket-taker with 282 dismissals to his name with a career best of 5-7.
The cricketer known as "Dan the Man" is captain of the Royal Challengers Bangalore side in the Indian Premier League and a vital part of Australia's Big Bash League team Brisbane Heat.
"A trump, with bat and ball. Finds a way to win, and is competitive and calm in a crisis. Insightful on and off the field, he provides you with the belief that nothing is impossible," Heat coach Darren Lehman said of the Auckland native.
Before his domestic commitments recommence, New Zealand will look to Vettori to play a key part in their ICC World Twenty20 campaign that begins on September 18.