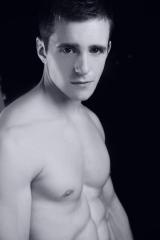 It has been a career he's wanted to get into for a long time
London, UK (PRWEB UK) 17 September 2012
As they launch another modelling portfolio online, La Mode London show they are yet again the most competitive commercial photography company in the heart of modelling London.
The model advice specialists who offer much more to a model than advisement and aid launch another modelling portfolio online. With a passion the fashion and a penchant for performing, for both an audience and the camera, their latest model signing has got the looks and also the talent to tackle two professions at the same time.
Michael McMullen is a 25 year old, brown eyed blue eyed boy with designs on two jobs, being a model and also an actor, but the experts at La Mode say a model is one and the same thing.
"It has been a career he's wanted to get into for a long time," explains Helen Smith, director for La Mode "He has finally gone for it and we're very glad he did. He had other things like university to concentrate on previously, but now he can give modelling 100% commitment. Like us, he believes in following your dreams no matter how difficult the challenge and he also believes in not having any regrets."
La Mode London pride themselves on their honest and open model advice, offering an ongoing free service to each model who walks through the door. Help is always on hand on how to make it in the modelling industry and not shy about blowing their own trumpets, London's Premier commercial photography company prove their product with testimonials from past clients and future stars which say it all.
When asked why he wanted to become a model, Michael said,
"I have a passion for fashion and performing for both an audience and camera, This is a new adventure for me which I hope to gain a lot of experience from and become very successful in."
Helen explains that to make a successful model means having acting abilities too.
"It's all about transposing yourself into the person the photographer needs you to be," she says. "Being someone else for the day is what modelling is all about it has to be believable. A great model, also has to be a great actor and Michael has definitely got the ability to do both. He has great model application. We have every confidence he will go far if his attitude and commitment is anything to go by."
Http:http://www.lamodelondon.com add all the latest and up-to-date modelling news as they get it on their website daily. They pride themselves in being one of the first companies in the industry to know about the very latest casting calls and post it on their site as soon as they occur. Each model on their books gets to see the modelling jobs within minutes of the modelling advice company. Time is of the essence in this very competitive market, say La Mode.
Although Michael hasn't any previous modelling experience, he has got the full day photo shoot with La Mode London under his belt and he has also done some stage acting in local plays," Helen says. "He's available for all types of modelling work including advertising and commercial, catalogue, exhibition and promotional modelling, but is also not shy about showing his body. He would quite happily undertake any type of glamour modelling or life modelling work for artists and schools."
View Michael's portfolio as it is launched online today at Http:ww.lamodelondon.com