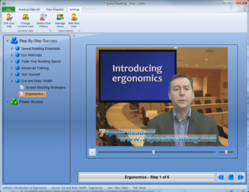 The more our teachers are trained, the more effective they will be in teaching our children how to read.
New York City, NY (PRWEB) September 21, 2012
7 Speed Reading Software, a leader in the reading software industry, is in full support of the latest Research on Reading instruction courses to be held this fall as part at the University of Minnesota's College of Education. The Minnesota Center for Reading Research is offering these classes to elementary school staff, including administrators and teachers, and anyone else interested in specializing in literacy education. The goal is to help staff use scientifically-based reading instruction to improve the reading abilities of K-6 graders.
"We are very enthusiastic about the upcoming fall courses on reading instruction. These classes will help fill a critical void in the teaching of reading," states Mark Slater of 7 Speed Reading. "The more our teachers are trained, the more effective they will be in teaching our children how to read."
The reading instruction courses will focus on four topics, including providing reading instruction, developing learning communities, using school-wide data, and coaching techniques. Four-day sessions will be spent on each topic spanning the course of the school year. Presentations, practice sessions, conference calls, and other learning techniques will be used to ensure understanding of attendees.
The focus of the Minnesota Center of Reading Research is on applied research. It works to assist school administrators on how to best teach reading skills to their students. The focus is on students from diverse backgrounds, including children of poverty.
Mr. Slater adds as his final thoughts, "We at 7 Speed Reading are very appreciative of all the Minnesota Center for Reading Research has to offer. Their commitment, dedication, and work is simply outstanding and should be highly commended."
To find out more about the software's advanced features, please visit: http://www.7speedreading.com
About 7 Speed Reading™
7 Speed Reading is the only modern speed reading software that uses the latest technology to produce superior results.
The software provides its users with a new way to master speed reading that guarantees three times the reading speed along with improved memory and comprehension.
The software is poised as the most comprehensive speed reading system anywhere. It contains seven learning strategies, fifteen software activities, video training, advanced tracking capabilities and many more exciting features.