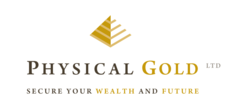 Bullion bars are available in many sizes to suit the most modern pocket.
(PRWEB UK) 17 September 2012
Gold prices have risen dramatically since the announcement of quantitative easing plans by the Federal Reserve last week. Amid fears the US dollar is set to weaken, gold can prove a hedge against an uncertain economy.
With a gold rush expected, Physical Gold describes the different types of gold available to investors:
1. Bullion refers to bars and coins of gold produced in mass for investment. They are regarded as one of the most cost efficient gold coins to invest in as their market value is determined exclusively by their gold content. A 1oz or full sovereign coin offers a great balance of divisibility and value.
2. Bullion bars are available in many sizes to suit the most modern pocket. They come in metric and imperial sizes but the most common weights are 1g, 2.5g, 5g, 10g, 20g, 1oz, 50g, 100g, 5oz, 250g, 10oz, 500g, 1kg, and 12.5kg. There are thousands of producers of bars and the top refiners are part of the London Bullion Marker Association (LBMA) which provides accreditation and guarantee of quality. Different refiners' bars will vary in dimension and shape but are all regarded as 24 karat gold, which is virtually pure gold. The advantage of a bullion bar is getting the most actual gold for your money.
3. Proof gold refers to coins struck using a special high quality minting process and is usually popular with coin collectors. They are more distinguished than bullion coins with sharper rims and defined designed. Proof coins are usually produced in limited issue, making them collectable, however their cost is 10-25% higher than bullion despite consisting of the same gold.
4. Collectors or numismatic coins are sought by collectors for a variety of reasons be it historical or sentimental. Ancient or rare coins can reach up to 200% higher than their intrinsic gold value. This a riskier investment however as they are less liquid and their perceived value is different from their market value. This is not a recommended form of investment unless the purchaser has experience in the market.
Physical Gold Ltd is a leading UK gold dealer, helping investors diversify their portfolios with innovative investment solutions. Renowned for their ground breaking products such as the Sipp gold and Gold Accumulation Account, the firm specialise in providing customers with tailored assistance in sourcing the best gold for their personal requirements. Based in London, the team are BNTA accredited and have an unrivalled knowledge of the gold market as well as an exceptional understanding of the general financial markets.