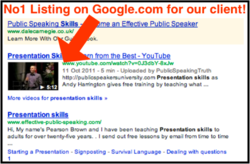 Ranking Video has the Added Advantage of Being no where Near as Crowded as Organic SEO Services, as Few have the Skills and Track Record to Consistently Rank Video.
London, UK (PRWEB UK) 21 September 2012
It is becoming highly questionable whether Google first page listings for websites are worth the usually considerable investment in SEO services.
"Buying into the perceived holy grail of a first page Google listing for a website has put more money in the pockets of SEO companies than it has the businesses paying for their services", contends Andy Frain, co-director of Video Results Ltd, a UK firm specializing in Online Video.
"But like most pipe dreams and myths, they carry a certain element of truth" says Frain.
It's widely acknowledged that getting into the top 5 of Google for competitive keywords can bring substantial rewards, but the inherent problem is that only a few can ever hope to achieve those spots.
"With approximately 75% of the traffic for any search going to those top places it has become a mad, bad scramble and if you are a business and are willing to pay, it becomes in the SEO expert's best interests to convince you it's race you can win."
"But the problem is, what if 100 or more businesses are willing to pay for SEO expert services when there's only still the same top 5 spots available per keyword?"
This unseemly and all consuming race has lead to most SEO companies being forced to manipulate search results to get a steal on each other and has even lead to well known brands being demoted in Google. Even the best SEO companies with the highest standards struggle to keep up.
This 'wild west' scenario has now lead Google to implement changes to their algorithm (called Panda and Penguin updates) to ensure that only the best and most relevant entries are displayed at the top of their results and cannot be gamed by a desperate SEO company attempting to deliver on their clients' investments.
Few can doubt the world of SEO is in a mess. SEO services pricing can be eye watering and all without guarantees for competitive keywords.
But is there a solution?
"I've been ranking videos instead of websites in the search engines for 5 years now", says Frain.
The advantage of ranking videos rather than websites is that you get a picture thumbnail listing (see image) rather than a dull text listing for websites, which is the same visually as everyone else's dull text listing.
"Its a specialist area and has taken me over 12,000 hours of research, testing and application to learn how to rank videos for really competitive keywords and clients include celebrities, house hold names and well known brands.
"We now have Google and YouTube rankings for keywords as competitive as; "weight loss", "public speaking", "how to play guitar", "presentations skills", "how to fight", "motivational speaker" and many more. There is currently no one attempting to rank videos that can prove such wide ranging and comprehensive results".
Ranking video has the added advantage of being no where near as crowded as organic SEO services, as few have the skills and track record to consistently rank video, even the so called best SEO companies. Frain has a serious warning for anyone considering a self appointed Video SEO 'expert', "Make sure they have a verifiable track record and customer testimonials backing up what they say they can do".
But that wasn't the final piece of advice Frain had to offer, "Before I formed Video Results with Tom Breeze (co-director) I used to get videos to rank but they often did not always convert well to targeted website visitors. This was because the videos were designed to tell the viewer about the business but not get them to take action."
Breeze increases conversion from video with a variety of skills and techniques that have seen opt in rates as high as 76% from his videos.
Breeze said "The fusion of traffic and conversion to online video is unique and puts us way ahead of any competition. Since then we've launched Video Results 2.0 to include video and social media, which now brings even more qualified traffic, sales and leads to our customers."
You can find out more about the advantage of using online video compared to SEO, and about Video Results in the attached video.