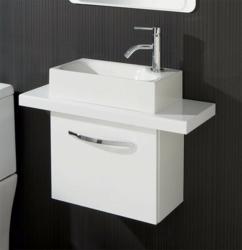 With Bella Bathrooms increased range, it's never been easier to find the perfect style
(PRWEB UK) 18 September 2012
Bella Bathrooms have announced the launch of a range of luxury bathroom furniture within a variety of categories including luxury vanity units, wall hung bathroom furniture, washstands and many more. The items feature beautiful, high quality products at an unbeatable price easily accessible to purchase online at http://www.bellabathrooms.co.uk.
The company have recently stocked up on a range of vanity units ideal for anyone needing to create space in their bathroom and provide a high level of storage accessibility. A vanity unit is specifically designed to fit in confined spaces paired with a combination of traditional bathroom items. For practicality, combining a vanity unit with a basin or toilet can help aid those who need to free space whilst gaining two uses in one. After bathroom storage, the next main advantage of a vanity unit will come to realisation after installation involving the ease of cleaning. No longer will owners have to clean the awkward pedestals and reach skirting boards. The easier the vanity unit is to clean the more hygienic it will be.
Another area Bella Bathrooms have greatly improved in products is their upgrades to the wall hung furniture they sell. It is always a benefit to be able to hang an item on the wall for storage without limiting the space in the room. Wall hung furniture is perfect for owners who want to stay clutter free and create more space to the naked eye. Not only can wall hung items be used to free space, but the ability to limit the requirements of bending or kneeling to retrieve items is reduced in probability. With Bella Bathrooms increased range, it's never been easier to find the perfect style but ensure that your wall is fully supported for holding the required weight.
Washstands are another key element to anyone wanting a bathroom with a good quality look. A washstand is a unique piece of bathroom furniture designed to provide a tool like usage enabling the user to display either a bowl of basin. The main purpose of this is that it creates a classic feel to the room yet provides a purpose of washings hands. Bella Bathrooms stock a wide variety of finishes, colours, sizes and designs perfect for finding the ideal one.
With constant upgrades to the range of bathroom furniture they stock, Bella Bathrooms secure a place above any other company when it comes to variety and price. With their new and improved bathroom e-commerce website displaying an easy to follow design; it has never been easier to find a spectacular item capable of completing your bathroom.
About Bella Bathrooms:
Bella Bathrooms is one of the finest UK online bathroom retailers based in the North-East of England and offer continuous great deals of bathroom refurbishments, shower, towel rail and radiator updates, stylish bathroom furniture and various other key elements at prices that are guaranteed to be unsurpassable. The latest updates continuously made have further improved the overall quality and they have set a high standard for things to come in the future.
Bella Bathrooms
James Chapman
Tel: 0844 8117 017
Available to contact from 9am – 5pm
http://www.bellabathrooms.co.uk
###