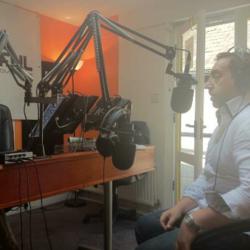 Stop turning people into admin.
London, UK (PRWEB UK) 17 September 2012
Season 2 of Superstars founder Stevie Hutson's appearances on Colourful Radio's Life With Juicy Jaxx has now reach episode three. Steve has been joining Colourful presenter Jaxx for her morning show to discuss the job market and offer advice to Colourful listeners to help them get the career of their dreams.
In week one, Stevie and Jaxx talked about how the London 2012 Olympics had affected the job market in the capital. "We have around 70,000 people out there who are excited by being part of this energy and now feel that they have worth," Hutson told Jaxx.
Stevie finished a packed session with Jaxx by talking about some of the Colourful Radio listeners he had been in contact with to discuss their careers one-to-one.
"It was incredible," Stevie told Jaxx, "They were both absolutely fantastic. I spent a good hour to hour and a half with each of them."
In week two, Hutson and Jaxx returned to talk about how the job market is changing and how the worlds of digital and technology are creeping into other sectors, meaning there are now plenty of new opportunities out there in places you may not expect.
"We are moving out of recession and through technology we are moving into a new world, which is fantastic news for all those lovely people out there looking for jobs," said Hutson.
Last week, Stevie wanted to discuss an article in Metro [http://www.metro.co.uk/news/newsfocus/910612-talent-analytics-a-better-way-to-hire-staff-or-merely-number-crunching that suggested psychometric testing was essential in getting people into the correct roles. Although he acknowledges that psychometric testing can be a useful tool, Hutson explained to Jaxx, "This really hit a few hot points for me. There is nothing wrong with psychometric testing but, the problem is, it is based on what psychologists were thinking around ten or twenty years ago. There are so many more fabulous techniques out there and, suddenly, we are making people numbers again, rather than actual people. And that is the issue, every single time when it comes to staffing.
"Stop turning people into admin."
Jaxx was intrigued by Stevie's idea of a Superstars iPhone app - iStar. "What we have done is take the best bits of Superstars and put it into a new interface," said Hutson, "The first part of this will be our Mentors page, which is coming in 3 weeks time. iStar will be born very soon after that!"
Stevie Hutson will be back on Life with Juicy Jaxx on Tuesday 18th September to talk more about the world of employment and to launch the new iStar app from Superstars. You can listen live via the Colourful website [http://www.colourfulradio.com/presenter/life/ or catch up with Stevie's previous appearances on the Superstars You-Tube channel [http://www.youtube.com/user/homeofsuperstar .
Superstars is based on a unique new staffing model that eliminates fees and margins forever. Clients work with Talent Managers to get the best staff for their needs and the Talent get amazing opportunities and the best support and mentoring in the industry.
Superstars' clients include BSkyB, Orange, Infosys and Radical Company with more being added all the time.
To find out more about Superstars' unique staffing model and how it can transform the way you hire staff, contact Steve Hutson - steve (at) homeofsuperstars (dot) com or visit http://www.homeofsuperstars.com