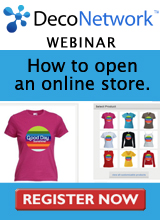 Tampa, FL (PRWEB) September 18, 2012
Any company involved in the embroidery and apparel business seeks to build a customer base to bring in additional profits to grow their business. One avenue that many companies take is to create an online presence to reach Internet shoppers, and this is where ColDesi, the leader in embroidery machines, is assisting apparel decorating companies with the help of DecoNetwork.
ColDesi has partnered with DecoNetwork to provide web site tools to apparel decorating and embroidery companies. DecoNetwork provides an online e-commerce shopping platform where the apparel company works with an online designer to create a web site that fits their apparel or embroidery product designs.
With ColDesi teamed with DecoNetwork, companies can obtain valuable sales information, business transaction tracking, and marketing trends that affect the apparel and embroidery industry. Now apparel companies can get the equipment they need for their brick-and-mortar stores and the online tools they need for their website content from one convenient location.
About ColDesi Inc
ColDesi Inc is a leading distributor of embroidery equipment and Direct To Garment printing machines and supplies to embroidery companies, silk screen shops and apparel decorating businesses. Founded in 1999 as the company changed its name from SWF East, ColDesi offers the latest in high quality embroidery supplies, heat presses, garment printer leasing, apparel decorating training software and product support to companies in the embroidery and apparel business.
To find out more information concerning ColDesi, call the company at 1-877-793-3278 or visit the company's website at http://www.coldesi.com.