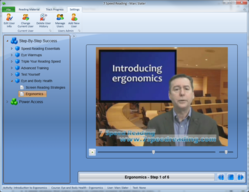 If dogs help to achieve this goal, then so be it...the high success rates speak for themselves.
New York City, NY (PRWEB) September 29, 2012
Power Paws, a new and innovative reading program in Scottsdale, Arizona, is currently underway. With the help of high school student volunteers, dogs are being trained to eventually become service companions for children and adults with disabilities.
"This program is an interesting and thought-provoking idea," states Marc Slater, Managing Director of 7 Speed Reading. "However, while geared to people with disabilities, the Power Paws program could help anyone. It's my opinion that it should not be limited to disabled individuals only."
The benefits of the Power Paws programs are twofold, because it helps both the dogs and young learners. Children read out loud to the dogs, improving their reading skills. As their skills improve, they learn how to read more quickly and fluently. At the same time, the dogs are being taught appropriate socialization skills.
Because the environment is not judgmental or critical, children are able to relax and feel more comfortable. Learners are better able to read out loud and in front of others without the anxiety and nervousness often found in kids learning to read. Dogs do not correct, make fun of mistakes, or criticize, as many people do. This supportive environment benefits children.
"Any program that helps learners increase their reading speed and reading skills is a good thing," says Mr. Slater. "If dogs help to achieve this goal, then so be it. I believe the high success rates speak for themselves."
While Power Paws is a relatively new program, similar programs do exist in other parts of the country including, but not limited to, California, New Jersey, and West Virginia. It's apparent that these reading improvement programs prove that the cliché is true: Dogs really are man's best friend!
To find out more about the software's advanced features, please visit: http://www.7speedreading.com
*******
About 7 Speed Reading™
7 Speed Reading is the only modern speed reading software that uses the latest technology to produce superior results.
The software provides its users with a new way to master speed reading that guarantees three times the reading speed along with improved memory and comprehension.
The software is poised as the most comprehensive speed reading system anywhere. It contains seven learning strategies, fifteen software activities, video training, advanced tracking capabilities and many more exciting features.