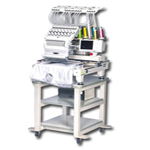 Tampa FL (PRWEB) September 20, 2012
Every good embroidery business owner knows that it needs the right equipment when sales are high and the company is experiencing an expansion. ColDesi recognizes the importance of business growth to offer 4 high-quality embroidery machines suited for a company at every stage of business operations.
ColDesi Inc has startup machinery, such as single-headed embroidery machines, that allow a small company that is just finding its niche to begin operations. Once the startup company has established itself and developed a solid customer base, it can move up in operations by using ColDesi's SWF Dual Function embroidery machine that can handle both large and small orders.
In addition to new business equipment, ColDesi also has commercial embroidery equipment for companies that have reached the stage where they are ready to expand. The ColDesi SWF Multi-Head Embroidery machine is perfect for a small business to grow into a medium-size company. Companies creating specialty embroidery crafts such as quilts and blankets order ColDesi's proven high-quality Specialty Embroidery machines.
About ColDesi Inc
ColDesi is a leading supplier of high quality embroidery machines and printing supplies to embroidery shops, apparel decorating companies, and silk screen printing businesses. Founded in 1999 as SWF East, ColDesi is headquartered in Tampa, Florida with offices also located throughout the United States and Puerto Rico.
The company is dedicated in offering Direct to Garment, dtg printing machines, embroidery supplies and screen printing equipment for new apparel decorating shops and established embroidery companies throughout the world to become a leader in its industry. To find out more information about ColDesi Inc and its products, contact the company at 1-877-793-3278 or visit the company website at http://www.coldesi.com.