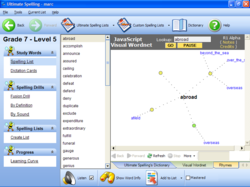 all students...regardless of how far they progress in the competition...are all winners.
New York City, NY (PRWEB) September 22, 2012
It's an exciting time in Australia with the OzSpell Challenge getting underway. For its first year, the OzSpell National Grand Final will be held in August 2012 with initial school and classroom competitions going on now. The OzSpell is designed to help students improve their knowledge of the English language, including their vocabulary, reading, comprehension, and communication skills.
"The OzSpell Challenge is an excellent program and we at Ultimate Spelling Software are looking forward to the competition," states Marc Slater of Ultimate Spelling Software. "Any program that encourages spelling improvement is a good thing. And if learning is fun along the way, you can't do any better than that."
The OzSpell competition was started to improve students' English language skills in a fun, yet effective manner. The challenge is open to students between the ages of 10 to 14 with all students receiving a certificate of participation. As students progress throughout the challenge, they can win various amounts of money and prizes, with the grand champion winning $5,000 for him or herself plus $5,000 for the schools' library.
By participating in the OzSpell Challenge, students not only improve their English skills, they also gain a level of confidence in their abilities. According to Mr. Slater, "Having confidence in yourself is half the battle. With time, practice, and hard work, the rest will come."
Ultimate Spelling Software is optimistic that the Australian OzSpell 2012 will experience great success and is hoping the competition will continue for many more years. Slater adds one final statement on behalf of Ultimate Spelling Software, reminding all students that regardless of how far they progress in the competition, "they are all winners."
To find out more and get on the road to better spelling, please visit: http://www.ultimatespelling.com
*******
About Ultimate Spelling™
Ultimate Spelling provides a modern and easy to use spelling software that has been designed with one goal in mind – making children WANT to learn.
It is a fast and easy way to master even the most complicated spelling, without the need to write long lists or complete boring tests.
In fact, Ultimate Spelling provides more than just spelling help. It is a complete educational resource that boosts all level of a child's literacy.
Containing a personal computer tutor, Ultimate Spelling is the most realistic step-by-step guide to flawless spelling ability.