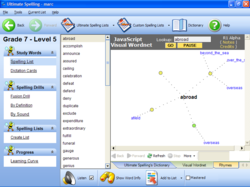 Children must have a solid foundation from which to build. Without this foundation, learning will be seriously inhibited.
New York City, NY (PRWEB) September 26, 2012
Current research shows that spelling plays a large role in a child's reading and writing abilities and is vital to his or her success. A person who is unable to spell will struggle throughout his or her life. Daily tasks, educational prospects, and career opportunities will be limited. Therefore, more importance must be placed on children learning to read and spell correctly while in grade school.
The same statements were given last May 10, 2012 by Deborah Reed on the publication of the Center on Instruction entitled "Why Teach Spelling?" She stressed on how spelling affects the reading skills of children and the proper ways to approach spelling instruction and development.
According to Marc Slater of Ultimate Spelling, "Spelling is critical to a child's success. By a child learning how to spell during grade school, it is likely that he or she will perform better throughout his or her school and work careers. Children must have a solid foundation from which to build. Without this foundation, learning will be seriously inhibited."
Spelling supports a child's reading and writing abilities. Learning to spell and learning how to read form a strong relationship between letters and sounds and are built using the same basic knowledge. Knowing how to spell results in more fluency in a child's reading skills and greater improvement. Spelling is also directly related to writing. Writing relies on basic skills including spelling, grammar, and punctuation. If a child's spelling is limited, his or her writing will be as well. A child will significantly reduce his or her vocabulary if spelling skills are ignored.
In addition, it is important that children not rely solely on technology for spelling. "While spell check is useful, it is not a solution," adds Mr. Slater. According to statistics, spell check misses 30-80% of misspelled words in a single document. Therefore, the importance of good spelling should not be minimized, but rather encouraged.
To find out more and get on the road to better spelling by next week, please visit: http://www.ultimatespelling.com
*******
About Ultimate Spelling™
Ultimate Spelling provides a modern and easy to use spelling software that has been designed with one goal in mind – making children WANT to learn.
It is a fast and easy way to master even the most complicated spelling, without the need to write long lists or complete boring tests.
In fact, Ultimate Spelling provides more than just spelling help. It is a complete educational resource that boosts all level of a child's literacy.
Containing a personal computer tutor, Ultimate Spelling is the most realistic step-by-step guide to flawless spelling ability.