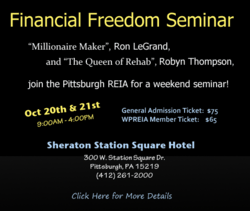 "most people have no idea who thier FICO score is calculated, or how to correct errors on thier report. That is why WPREIA has contacted an expert to teach our members and guests" Josh Caldwell
Pittsburgh, PA (PRWEB) September 18, 2012
The Western PA Real Estate Investor's Association will be presenting a lecture on the topic of credit repair. This lecture is intended for WPREIA members and anyone else who wants to attend as a guest of the club.
This presentation is designed to teach people who credit scores are used, what affects a credit score, and what can be done to clean derogatory or erroneous information from a credit report. In today's economy it is very important to maintain a good credit score. For investors it can be critical.
The main speaker will be Paul Ritter. Mr. Ritter is a national know credit repair specialist. His company has more than a decade of successful experience helping people improve their credit scores. Mr. Ritter has helped people all over America to qualify for a mortgage much faster than they could have done so on their own.
The Pittsburgh based investment club offers its members a wide range of educational speakers, as well as access to companies that support the goals of investors. Companies like dotcomsecretsX offer internet marketing assistance to investors who wish to market their investment properties for sale. Other vendor partners of the club include more traditionally aligned business operations like lawyers, accountants and background check companies like background check 360. Club members gain access to a full team of professionals who can help them grow their profitable investment business. Assembling a good team is one of the hardest things that novice investors encounter. The members of the Western PA Real Estate Investors Association have this difficult step done for them.
Mr. Ritter comes to Pittsburgh as part of the WPREIA Financial Freedom Seminar Series. The Pittsburgh based real estate investment club is dedicated to education its members in all of the ways to make money in real estate regardless of credit or available cash. The club is the fastest growing investment club in Western PA, with members traveling in excess of one hundred miles to attend the monthly meetings. Members come from Allegheny,Somerset, Westmoreland, Armstrong, Butler, Beaver, Mercer, Lawrence, Washington, and Green Counties. The club is open to all people who wish to learn how to become financially free. Successful club members have quit their day jobs and stepped into lives of wealth and freedom. It is the goal of the club to help each and every member achieve this sort of success.
The culmination of the Financial Freedom Lecture Series will be on October 20-21st, at the Sheraton Hotel in Station Square. This event is limited to only 150 people. Tickets are on sale now. This event is expected to sell out. Featured in this event are some of the most exciting real estate educators alive today. Ron Legrand is a real estate legend. He has personally bought and sold over 2000 houses. Making millions of dollars for himself. Robyn Thompson is also a self-made millionaire, she buys, fixes, and sells house. She has done so over 300 times. These are just two of the speakers coming to Pittsburgh in October for this once in a lifetime event. If you want to get free from the rat race, then go to the web site http://pittsburghreia.com/. Tickets are sold on a first come first serve basis and all are welcome.