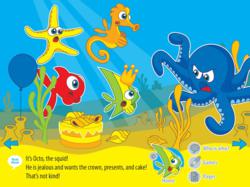 With the growth of the eBook market, Kwik 2 fills an essential need, making mobile development easily accessible to talented designers and illustrators.
Coral Springs, Florida (PRWEB) September 19, 2012
Kwiksher is pleased to announce the launch of Kwik 2, an updated release of the original Kwik plugin for Adobe Photoshop CS5 and higher. Kwik 2 simplifies the process of creating interactive, animated content for iOS and Android devices. The updated release features an array of additional features and offerings including: a new interface, enhanced speed, and an auto-debug system. Kwik 2 also allows users to easily add buttons, actions and animations to static Photoshop compositions.
Kwik 2 is ideal for designers and illustrators looking to create interactive eBooks, magazines, and now, games with physics. The plugin provides dozens of pre-made features such as controlling sound, linear and path animation, and sprite sheet capabilities without the need for users to leave Photoshop. The tool also allows users to integrate external code inside the plugin.
"Kwik empowers illustrators and designers to bring stories to life without any coding," said Alex Souza, founder of Kwiksher. "With Kwik 2, creative folks can build wonderful content at a much faster rate, direct from their Photoshop compositions."
Kwik uses Corona SDK, the leading cross-platform mobile development framework, for previewing and publishing final projects. Over 150,000 developers worldwide build with Corona SDK, and more than 20,000 Corona-made apps have been published to major app markets.
"We're honored to continue our lasting partnership with Kwiksher," said Walter Luh, CEO of Corona Labs. "With the growth of the eBook market, Kwik 2 fills an essential need, making mobile development easily accessible to talented designers and illustrators."
Dozens of popular Kwik-made storybooks and apps have been published to major app markets including Fire Cupid, featured in Wall Street Journal, TIME, and The Washington Times, and Sparky the Shark, an award-winning children's tale. New apps made with the beta version of Kwik 2, are already available on the market, such as Floating Fun, Nighty Night Monsters and Corali.
"Discovering Kwik was a dream come true. Within minutes, I was convinced that it was the right tool for my project," said Luc Adriaens, author of Corali, a gorgeous storybook made with Kwik 2.
System Requirements:

Adobe Photoshop CS5 or above for OS X or Windows
Corona SDK
Certified iOS and/or Android (Google Play), Amazon, or NOOK developer membership
Mac OS X 10.5.8 or later
Pricing and Availability:
Kwik 2 is available at a special introductory rate of $199.99 through September 30, 2012. Current users of Kwik 1 can upgrade to Kwik 2 for $99.99 until September 30, 2012. Kwik is free for projects with up to six pages and review copies are available upon request. Kwik 2 will retail at $249.99 following the promotional period, and the upgrade will sell for $149.99.
TAGS:
Corona SDK, iOS, Photoshop, Interactive Books, plugin
ABOUT KWIKSHER:
Founded in 2011, Kwiksher is a Florida-based, independent software company founded by Alex Souza. Based in a strong blend of design and development skills, Kwiksher's mission is to craft elegant, easy-to-use applications for the iOS, Android, Windows and OS X platforms.
Copyright (C) 2011 Kwiksher. All Rights Reserved. Apple, the Apple logo, iPhone, iPod, and iPad are registered trademarks of Apple Inc. in the U.S. and/or other countries. Adobe Photoshop names and logos are the property of Adobe Systems. Corona Labs, the Corona logo, and Corona SDK are the property of Corona Labs Inc. Other registered trademarks may be the property of their respective owners.