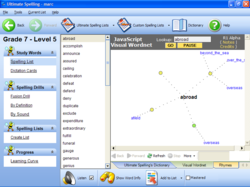 ...the solution is neither to discard conventional spelling activities, nor to exclusively employ new techniques.
New York, NY (PRWEB) September 30, 2012
Ultimate Spelling™ encourages the use of the latest advances in language techniques, such as visual word mapping and the seeking out of patterns and tendencies. Word mapping is considered essential for successful, fast and effortless spelling instruction. As Marc Slater, managing director of Ultimate Spelling™ commented, "Word mapping constitutes an efficient teaching spelling technique. And that's because word mapping touches on every aspect of language, from phonetics, to semantics and syntax. This is of course vital for learning a word completely and properly."
He went on by adding, "For successful spellers, one can only master word mapping if they develop effective study habits. This includes a variety of tried and tested study techniques from spelling games to narrating stories." In other words, the solution is neither to discard conventional spelling activities, nor to exclusively employ new techniques. The solution is somewhere in the middle, a balanced, thought-out combination of all these techniques not only keeps the children engaged, but it also accelerates the learning process, Ultimate Spelling™ asserts.
Frequent and consistent repetition and review ensure higher absorption and correct application of one's spelling knowledge. Ending with a suggestion for students and teachers alike, Slater says, "Most people make the mistake of discarding old spelling habits in favor of technology and new trends, when in fact effective spelling can only be attained through a combination of the two."
Ultimate Spelling™ incorporates new as well as tried and tested spelling techniques, making it an excellent tool for efficient spelling teaching.
To find out more and get on the road to better spelling by next week, please visit: http://www.ultimatespelling.com
###
About Ultimate Spelling™
Ultimate Spelling provides a modern and easy to use spelling software that has been designed with one goal in mind – making children want to learn.
It is a fast and easy way to master even the most complicated spelling, without the need to write long lists or complete boring tests.
In fact, Ultimate Spelling provides more than just spelling help. It is a complete educational resource that boosts all level of a child's literacy.
Containing a personal computer tutor, Ultimate Spelling is the most realistic step-by-step guide to flawless spelling ability.